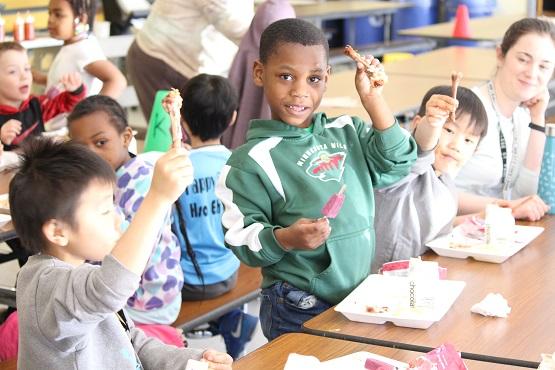 The Secret to Setting Kids Up for Success?
Maria Anderson knows how important breakfast is to a student's overall health and wellbeing. Anderson oversees nutrition services for ISD 623, Roseville Public Schools, in Roseville, Minn., as well as the Saint Anthony and New Brighton school districts.
In ISD 623, more than 45 percent of students qualify for free or reduced-cost meals, yet few students in middle school and high school (roughly 15 percent of those who qualify) participate in the breakfast program. Anderson is trying to change that.
"Middle school students are especially social and pulling them into the cafeteria for breakfast is a hurdle when they want to catch up with friends," Anderson explained. "An ongoing goal is to increase our breakfast participation, so it becomes the norm to eat breakfast at school. We know there are students who need that strong start to the day and with a 10-15 percent participation rate we are certainly missing students."
While families may realize the importance of breakfast, Anderson explained, language barriers and confusing paperwork are strong obstacles to reaching students who need free or reduced-cost meals. Also, many families don't realize they need to reapply for benefits every year.
"As a school district, we work to be proactive and capture these families before the lapse occurs, but families have full plates and often paperwork can get missed," she said.
Getting More Kids to the Table
The school district is participating in the Second Harvest Heartland and No Kid Hungry Minnesota Breakfast Challenge to increase breakfast participation. The Challenge encourages schools to start a breakfast program or increase students' participation in a current breakfast program through a fun, friendly competition.
"This year we will be utilizing the Minnesota Breakfast Challenge score card to emphasize breakfast and highlight its importance to our students," Anderson said.
The Minnesota Breakfast Challenge scorecard includes numerous activities, such as creating breakfast posters and hosting a breakfast taste-testing event that translate to points when completed. The more points a school accumulates the greater the school's chance of winning the first-place prize of $1,000. Each school that joins is eligible to apply for No Kid Hungry Breakfast grants to support their School Breakfast Challenge participation.
Anderson knows that reaching more kids today through school breakfast sets them up for success in the future. But she worries that two pending rule changes to SNAP (the Supplemental Nutrition Assistance Program, formerly food stamps) will make getting free or reduced-cost school meals even harder for families and result in hundreds of thousands of kids losing access to much-needed school meals.
Become a Breakfast Hero!
We all play a role in helping to reduce child hunger this school year—and it starts with breakfast.
Learn more about how you can support this important work and become a breakfast hero. You can make sure kids get the nutritious food they need to grow strong and thrive. Here's how you can help.