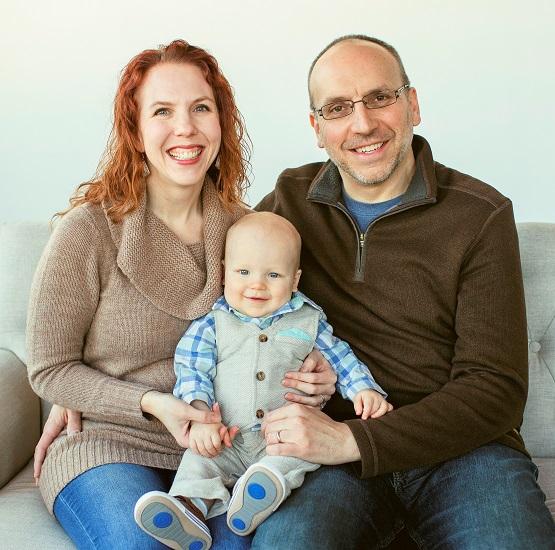 Partners in Life, Work and Fighting Hunger
Before Dr. Amanda Mulfinger and her husband, Christopher, opened their own mental health services office, Cabot Psychological Services, in Edina, Minn., Amanda worked as a senior clinical psychologist at Hennepin County Medical Center. There, she saw firsthand the impact hunger can have on a person's health and wellbeing.
"What I primarily saw was people eating outrageously unhealthy food because it was cheaper than the nutritious options," she said. "One person drank nothing but soda because he could get a 2-liter [bottle] for $1 and drink it all day long. The idea of buying milk was out of reach."
Amanda also realized the longer-term impacts of hunger that may go unseen or not develop until later in life. As a clinical psychologist at The Emily Program, a multi-disciplinary eating disorders clinic in St. Paul, Minn., she specialized in treating a variety of disordered eating.
"One big impact of hunger and food insecurity shows up in the form of eating disorders or disordered eating later in life," Amanda explained. "People may hoard food or overeat to placate their tendency to feel they don't, or won't at some point in the future, have enough to eat."
Amanda has always cared deeply about the problem of hunger and carried this knowledge with her over the years as she and Christopher opened her practice, and had their son, Campbell. "We always knew we would give when we could, and as our business became more successful, we started looking for a charity to support," she said.
After Amanda and Christopher attended Vintner Uncorked, Second Harvest Heartland's annual wine tasting fundraiser, Amanda said their decision was clear.
"Second Harvest Heartland supports our two greatest values—reducing food waste and feeding hungry people," Amanda said. "It checks both boxes. It's that combination that made us decide to give. We think the mission is amazing."
While she's always been familiar with the impact hunger has on a person's health, Amanda said she learned a lot about food waste through Second Harvest Heartland's Food Rescue program and to her, it's a matter of common sense. "We live in a country of abundance where so much goes to waste, but if we're all responsible and ethical about our food consumption and distribution, I think we can solve the problem of hunger."
In her practice, Amanda helps maximize her patients' health by focusing on the mind and helping them use their own strengths to overcome difficult situations and emotions. By becoming a monthly donor to Second Harvest Heartland, Amanda and her family continue to make an impact on the health and wellbeing of their community and beyond.
Become a Monthly Giver
Become a Monthly Giver like Amanda! Your sustaining support will provide much-needed meals all year for the hardworking families and hungry kids we help serve.