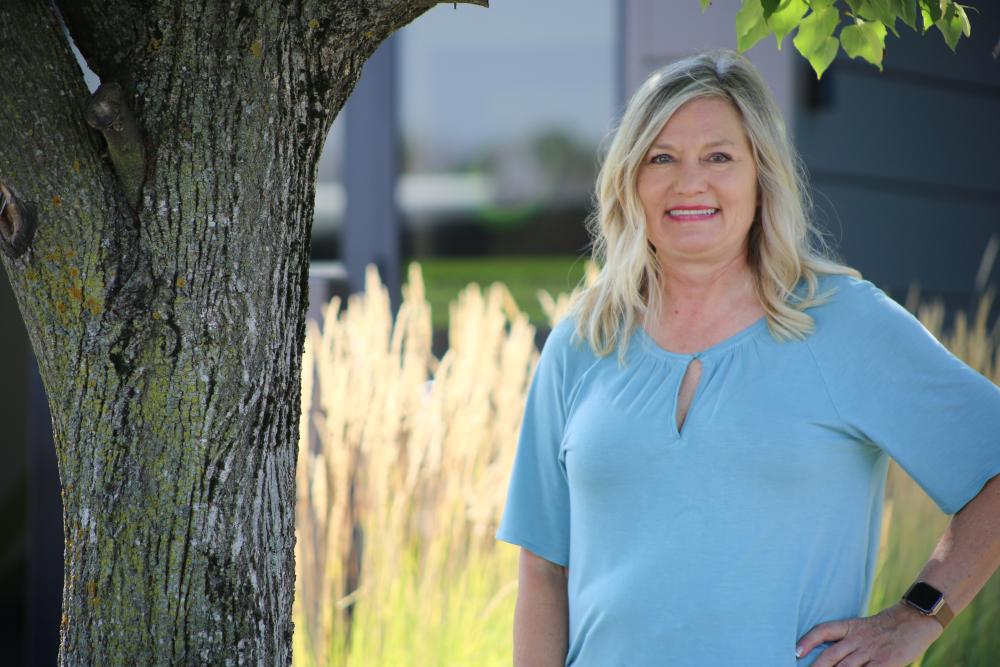 The Nurturing Work: A Nurse Practitioner Shares How SNAP Helped Her Navigate Uncertainty
This summer, Julia (name changed for privacy) has spent a lot of time among zinnias and lilacs. The fixer-upper home she purchased a few years ago has gone through a refresh and now she's turning her sights to the garden.
"Now my goal for the home is to make the outside beautiful," says the nurse practitioner. "I've kind of neglected it since I moved in. I've done maintenance work, of course, but I've not really done any nurturing work. So now I'm nurturing and I am planting the plants that give me joy and beauty and make me proud to drive up to my home every day."
Nurturing and caring for people has been a big part of Julia's life, too. Starting as a registered nurse and working her way up to become a family health nurse practitioner, gives her a feeling of purpose and fulfillment.
"I love the relationships I build with people," she says.
Last year, one of the most important relationships in Julia's life fell apart in a big way. After experiencing domestic assault, Julia left her husband.
"I was going through a very catastrophic time in my life," she says.
Julia was not working at the time, and the process of applying and interviewing for nurse practitioner jobs often takes months. Facing uncertainty in the midst of emergency, an advocate at Communities 360's Lewis House Shelter guided Julia to the Supplemental Nutrition Assistance Program (SNAP).
"When SNAP was introduced to me, I had very little savings and it was going away very quickly. So I was encouraged to apply for this SNAP program and I was accepted."
Paid for with funds from the Farm Bill, SNAP provides food benefits to low-income families. Foods like fresh fruits and vegetables, meat and poultry, dairy, breads and other cereals and snacks can be purchased using a preloaded debit card. While SNAP benefits do not usually cover a family's entire grocery bill, they can help offset the costs and ensure that the foods families already know and love end up on their dinner tables.
"At the time SNAP came in, it was around Christmas time," she recalls. "I am down financially, I am emotionally destroyed. At the time, I was reeling from how my life had changed within the last couple of months and SNAP - albeit it wasn't a huge benefit for me, and I didn't expect or want a huge benefit - but it was enough that I could go to the store and buy some fresh fruits and veggies and feel like I was doing something for myself to be healthy."
Eating nutritious foods is important to Julia and so was being able to select the foods with which she was already familiar.
"It was amazing to have that choice [of foods]," she says, remembering the first time she went shopping with SNAP benefits. "I really wasn't sure when I went to the grocery store what would happen. How would my pin work, and would the store take it, and did I buy the right things? And I just did my best to go through and I bought the healthy stuff. I bought a treat or two but nothing wild and crazy, but I got to the checkout and they accepted it and I was like, 'Thank you! Thank you, SNAP, for this gift.' And it really was a gift."
This fall, Congress will reauthorize the Farm Bill that provides funding for SNAP. Debate about requiring SNAP participants to have gainful employment in order to qualify for benefits concerns Julia.
"If the philosophy of SNAP is to help people when they're down, a work requirement would be devastating," she says. "For me, working in my field, it's a six to 12 month application, hiring, and onboarding process… I wanted to work in my field and I wanted to be able to have the ability to apply myself to those application processes and interviewing and I was able to do that. And so to a lawmaker, I would say that a work requirement is counterintuitive to the point of the [SNAP] program."
As Julia was connecting with community resources to help her find legal counsel and additional support, she was also working on finding a job.
"I was still reeling," she says, "but I was getting my feet on the ground and saying, 'Okay, I gotta get it together and I gotta get out there in the workforce again. I literally got up in the morning, I had my coffee, scratched my dog, and logged online. And this position had been posted that morning. I was in shock that this is my dream job!"
She applied immediately and the interview, vetting, and onboarding process began. Although the process predictably took several months, Julia counts herself not only fortunate, but blessed to have found a position she loves so much so quickly.
Reflecting on one of the darkest times in her life, Julia's thoughts often come back to other women who have also experienced abuse and assault.
"You're not in it alone. You're not alone… And it's not what you did. It happened. It happened to you, and you're not alone."
She also approaches her work as a nurse practitioner with even more concern, thinking about what resources may be available to patients and how to connect them to additional care they may need. It's all about giving her patients the hope they deserve. And for Julia, her hope is that SNAP remains available to those who need it, many of whom are experiencing emergencies similar to the one she went through.
"There's no stereotype," she says about domestic violence. "It can affect anyone. And for me, it was a huge surprise. I was fortunate: I was able to get out when I did, and I had wonderful support from friends and family, and the support of the legal team, the support of the community, the support of Communities 360, the support of SNAP and what that meant. It's what kept me up."
Take action to protect SNAP for neighbors like Julia. Contact your members of Congress today and ask them to fund SNAP in the next Farm Bill. Contact your lawmakers.