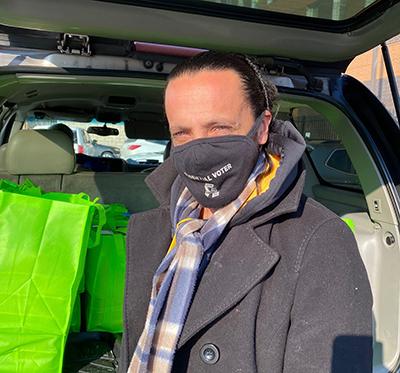 Northside Partners for Food Delivery Expands to 300 Families
Late this past summer, Family Achievement Coaches at the Northside Achievement Zone (NAZ) in North Minneapolis began noticing that many of their families were struggling with food access. A Wilder Research study confirmed that 60 percent of families indicated that they were not eating the way they used to. And 80 percent said this was a new experience since the onset of COVID-19 and aftermath of social uprisings.
Because food insecurity is just the tip of the iceberg in today's crises, according to Sondra Samuels, President and CEO of NAZ, we must address it first and we must tackle it collectively. "We need each other during this time. Us coming together? That's where the power is. We have the power to make our city over again."
Northside Partners for Food Delivery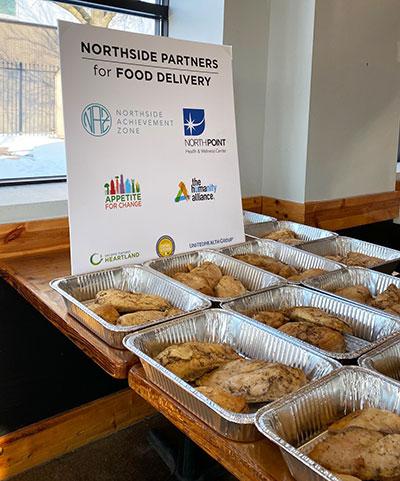 And so NAZ mobilized with NorthPoint Health & Wellness Center, Appetite For Change, The Humanity Alliance, Minnesota Central Kitchen, and Second Harvest Heartland to create the Northside Partners for Food Delivery Program last summer. Each week, families receive a home delivery, alternating between groceries and prepared meals. Groceries include fresh produce, dairy products, protein and shelf stable items. Prepared meals include restaurant-quality meals.
"To see folks show up to their door, happy to see you is one of the most beautiful things I've done in my whole life," explained Antwayn Hunter, Logistics Manager at Breaking Bread, the Northside Appetite For Change café now serving as a Minnesota Central Kitchen prepared meals distribution hub. "This (pivot to food distribution) has allowed us to build our partnerships, build our distribution points, and honestly build this program to the point where it's something we can continue even once we go back to whatever normal is."
Families are happy to see folks like Glen, a neighbor now on staff with The Humanity Alliance to make weekly deliveries to families across the Northside. On a typical Friday, he's visiting 40 families.
More than 59,000 meals served, and counting
To date, the Northside Partners for Food Delivery program has delivered more than 59,000 prepared meals to NAZ families. And thanks to a $1 million grant from UnitedHealth Group as part of their commitment to rebuild the health of the Twin Cities, the program has expanded to serve double the number of Northside families through the end of this year.
"Partnering to deliver groceries and cooked meals – which our families love – has been a real game-changer. We look forward, as we continue down this path, to meet the needs right now so that in years to come we don't need to do this," Sondra explained.
The Northside Partners for Food Delivery Program is just one of many COVID- and community-response initiatives serving Minnesotans today.
If you could use some help filling your fridge, find your local food shelf or Minnesota Central Kitchen meal distribution site.
If you'd like to support the work of programs like this, consider hosting a Food and Fund Drive or making a donation directly to partner organizations linked above.