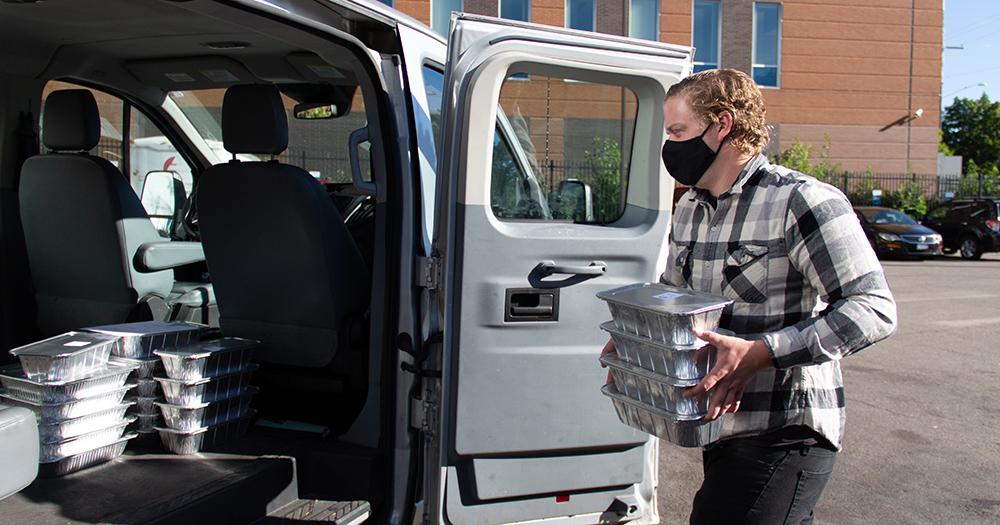 The Need for Prepared Meals in the Fight to End Hunger
The fight to end hunger is about more than feeding people. It's about feeding people well. It's about nutrition and protein and produce. That's why we prioritized adding 30,000 square feet of temperature-controlled space to house fresh, healthy food in our new facility. Space that will help us supply our food shelf and meal program partners with more meat, dairy and produce.
Fighting hunger is also about prepared meals, a resource we began deploying in response to the COVID-19 pandemic.
"Prepared meals meet so many critical needs, and they allow us to reach individuals and families who might not be visiting food shelves or applying for food assistance programs like SNAP," explained Emily Paul, managing director of Second Harvest Heartland's new collaborative, Minnesota Central Kitchen. "To-go style prepared meals are a great source of nutrition, they're a healthy resource for folks who may not have the time, ability or access to cook, and they're available with less barriers and stigma."
While prepared meals are a new delivery method for Second Harvest Heartland, it's a natural extension of our mission of ending hunger—combining our food rescue leadership with our partnership model to build community through food and expand access for all.
Step One: Meal preparation through Minnesota Central Kitchen
The sourcing for and delivery of prepared meals has been brought to life through Minnesota Central Kitchen, an initiative of Second Harvest Heartland to rescue food, re-employ furloughed culinary workers and produce fresh, nutritious meals to anyone.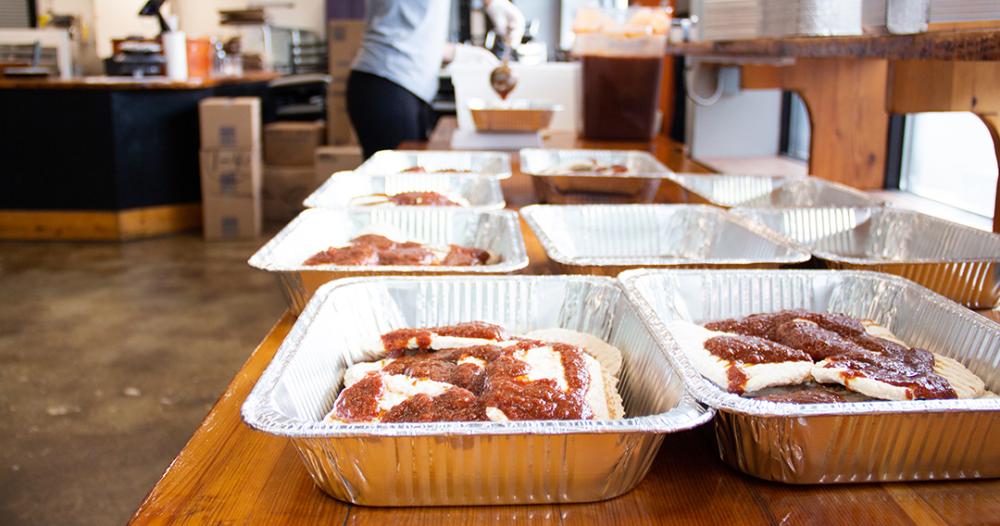 Once meals are prepared at a Minnesota Central Kitchen site—11 kitchens and counting—one of our five distribution partners picks up the to-go-style meals and delivers them to one of more than 50 free meal distribution sites across our region, ranging from churches to community centers to schools and spots in between.
Step Two: Delivery to community, by community
At one of those kitchen sites—Breaking Bread Café located in North Minneapolis and operated by food justice nonprofit Appetite For Change—Seth Rockenbach will ready a cargo van for a morning full of deliveries.
Especially during the pandemic, special effort is made to serve Minnesotans who might not be able to cook or access prepared meals right now, including those wo are sick, homebound, frontline or essential workers, and the children and families of caregivers who are ill.
After loading up, his first stop is Hennepin County Medical Center (HCMC) in downtown Minneapolis where social worker Mollie Kohler meets him to receive lunch for staff of the NICU.
He's then headed back to North Minneapolis and Green Garden Bakery, a youth-run business selling vegetable-based desserts, which lends its space as a meal distribution site for families in the neighborhood.
One quick swing by Breaking Bread Café and Seth's en route to the Harold Mezile North Community YMCA where he readies a Loaves & Fishes fridge for family meal pick-up.
In less than two hours, the Appetite For Change team delivered 375 meals to individuals and families who may otherwise have gone without such nutritious, comforting nourishment. Their operation contributes 9,000 meals to the 25,000 that Minnesota Central Kitchen is serving to the community each week. Since March, nearly 800,000 meals have been prepared and served.
Moving forward through and out of this crisis, Second Harvest Heartland and Minnesota Central Kitchen will continue to explore creative and community-centered ways to fight hunger, including the critical role that prepared meals play in providing sustenance and stability.
To find meal distribution sites and other food resources in your neighborhood, use  Hunger Solutions' interactive map. Additional emergency and longer-term food resource information can be found on our resources page.