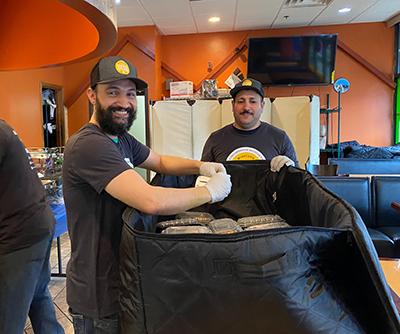 Minnesota Central Kitchen Offers Halal Meals to Muslim Communities During Ramadan and Beyond
A prepared meal feels like care. And a prepared meal that is familiar or tastes like home makes that feeling even stronger.
Since its inception in the early days of the pandemic, Minnesota Central Kitchen has distributed more than 2.5 million meals. Our growing community response network is 15+ local businesses and 75+ distribution partners strong. We are grateful for the first two years of this work, and excited for what's next, which includes providing even more culturally-connected meals.
Culturally-connected prepared meals are about equity. Both equity in access to meals for those who have barriers to preparing food and in access to food that meets dietary, cultural and religious needs – such as vegetarian and halal dishes.
Common Bond Communities Teen Program Coordinator Demetrius Shaw was looking for food resources for Skyline Tower when he was connected to Minnesota Central Kitchen. The hot, ready-made meals provided by restaurant partner Afro Deli were an instant hit with his residents.
"In our community, we have residents who are refugee families, either from Somalia or East Africa, and they want culturally related food," said Demetrius. "So, when they told us [about] a food source with halal meals, I was like 'great!' They are cultural meals that will benefit the residents and we know they will eat them."
Every Wednesday, 500 to 700 meals are delivered to Skyline Tower for residents to pick up, including both single-serving and family-size meals. As soon as the staff starts setting up for distribution, a line starts forming. People often pick up meals for others who are working or not home and food is set aside for resident who can't be at the noon hour distribution.
"I think the community just loves it being right there," Demetrius said of having the meals available to pick up on site. "You're not having to order it. You're not having to make it yourself. For a lot of our hardworking families with kids that are going to school, having that hot meal that they can eat … that's very impactful."
Another way of providing culturally-connected meals is to provide these meals at the right times. Ramadan is the Muslim holy month, a period of fasting and spiritual growth observed by more than a billion people around the world. During the month, many Muslims fast every day from dawn to sunset.
Due to the holy month's eating schedule, many folks who rely on food assistance resources can have a particularly harder time getting their food needs met. During Ramadan, seniors who go to adult daycare do not eat while there, which means they miss their primary source of food while fasting.
Fortunately, two Minneapolis restaurants answered the call and opened their doors to the Muslim community during the holiday this year. East Village Grill and Afro Deli are partners of Minnesota Central Kitchen, and have spent the past month making, distributing and delivering free prepared halal meals to area seniors and families.
"There's a food desert in our community," said Abdirahman Kahin, CEO and owner of Afro Deli-Minneapolis. "These people sometimes struggle to bring food to their tables. So, [their budgets] would really benefit from an extra meal."
Kahin says his restaurant feeds about 1,000 people through Minnesota Central Kitchen daily during Ramadan and recalls one day when they ran out of meals in just 15 minutes.
These larger Ramadan meals, breakfast and dinner, are meant for consumption at sundown. Kahin says even with the large amount of people to feed, they work to make accommodations to meet dietary needs and preferences as well. "We serve them food that we serve in our restaurant, so the quality is top-notch," Kahin said.
The distribution areas during Ramadan were identified in partnership with the Minneapolis Public Housing Association and local mosques, Abubakar As-saddique Islamic Center in Minneapolis and Masjid Al-Ihsan in St. Paul. Both restaurants also coordinated volunteers from local mosques to assist with distribution.
Kahin says partnering with organizations like Meals on Wheels and Minnesota Central Kitchen help them distribute farther in the community than they could by themselves.
"It's important for us as a restaurant, and as a community, because I see my restaurant as a community space. So, we use our platform, our kitchen and our staff, and give to people who need food. Because the demand for food is bigger than a few organizations. It needs community to step up and do their part, and that's what we're doing, our part."
Minnesota Central Kitchen is looking to deepen relationships with communities in the seven-county metro area. We also recently launched in Rochester and hope to expand to more cities in the coming year.
Would you like to pitch in with Minnesota Central Kitchen? Restaurants and businesses interested in becoming a kitchen partner site, or community organizations interested in distributing meals, can email us at mncentralkitchen@2harvest.org.