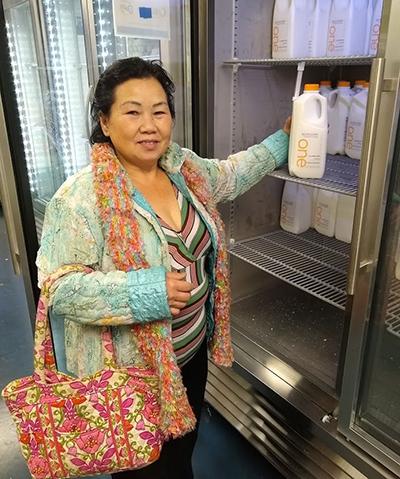 Midwest Dairy Makes Milk More Accessible
In celebration of June as National Dairy Month, we want to raise a glass (of fresh milk) to our long-standing partner, Midwest Dairy, for making milk more accessible to those experiencing food insecurity in our region.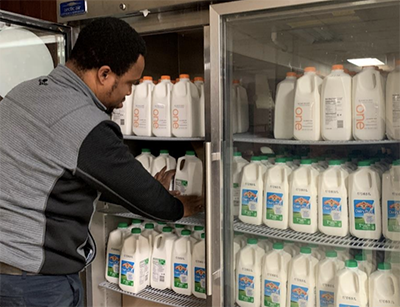 Milk's essential nutrients make it an important part of any diet and it's consistently a top-requested fresh product by food shelf clients. Because of its short shelf life, milk can be more difficult for food shelves to store and provide, but Midwest Dairy time and again has provided resources to make access to milk easier for our partners and the clients they serve.
There are two big reasons to celebrate Midwest Dairy for going above-and-beyond to help us meet the hunger need with nutritious and delicious milk:
Convenience Store Milk Vouchers
FOODRx patients, who receive regular prescription boxes filled with shelf-stable foods, were also able to purchase fresh milk at grocery and convenience stores during the holiday season. Because these patients are managing their diseases through diet, it's important they have access to fresh protein and the vouchers made this a welcomed reality. One patient, who lives on a fixed income, appreciated the vouchers which helped in their "struggle to make ends meet" and not having to skip the healthy addition of dairy to their diet.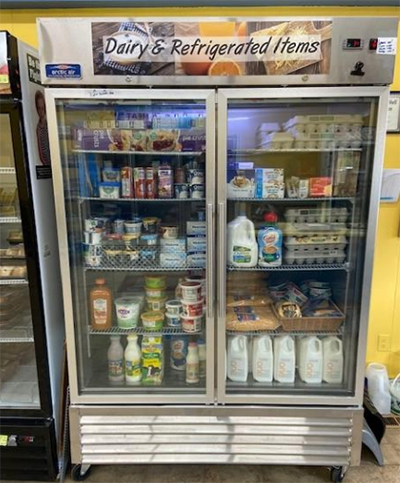 Grants to Our Food Shelf and Hunger Program Partners
Food shelves often have a shortage of cooler space to provide fresh milk and other dairy products to clients, so it was a wonderful gift to receive from Midwest Dairy $95,000 to purchase coolers for 45 of our agency partners. The grant covered both the cost of the refrigerator and delivery. Food shelves were able to choose from a selection of four different types of coolers to best meet the needs of their individual programs. Most of the refrigerators chosen featured glass doors to allow food shelf clients to view the products in abundance and take what they need.
From Heaven's Table in Fairmont to Worthington Food Shelf to Good in the 'Hood and many more spots in between, clients have the opportunity to bring home fresh milk.
"We were thrilled to receive this grant to provide additional cooler space to distribute nutritious and highly sought-after dairy products to families experiencing hunger," said Sue Hanks, Program Manager, Catholic Charities Emergency Services in St. Cloud. "We are immensely grateful for partners like Midwest Dairy, who work with us to help us provide generous food contributions to the communities we serve."
And many visitors to food shelves are always pleased when milk and dairy products are available:
One family was excited to treat themselves to "breakfast for supper," which included cereal with fresh milk.
"I know milk is good for you - lots of vitamins and minerals. I try to have some every day if I can," shared a client from the Melrose Area Food Shelf.
"I am very happy I can get milk when I come to this food shelf," explained Se Lee, pictured here visiting CAPI. "Having the refrigerator here is wonderful because the milk is fresh and cold."
"God bless you," said Greg, a visitor to Catholic Charities in St. Cloud. "It really helps me as a person on a fixed income who struggles to make ends meet."
Thank you, Midwest Dairy, for your continued partnership and commitment to ending hunger in the midwest.