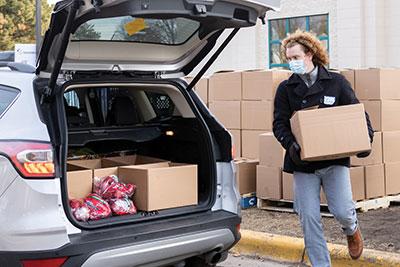 Throughout the past year, our neighbors have needed more help staying fed and well than ever before. Getting food to people safely and in new ways was an around-the-clock effort, requiring us to reinvent our service model again and again. We were honored to do it, and to bring urgency to our work every day because our scale and efficiency makes us a critical player in keeping food moving when times get tough.
It was already clear by early March of 2020: our sourcing and operations teams could see that the pandemic was taking hold. They worked around tightening food supply chains and heard from more people worried about their next meal. Knowing that people could no longer safely come indoors to shop at food shelves, organizing new curbside-to-trunk emergency grocery pop-ups was the order of the day.
Meanwhile, grocery stores—a critical source of food donations for the hunger-relief network—were beginning a similar high-stakes operational shift to keep staples on shelves and ensure staff and shopper safety. Through it all, Mike Stigers knew one thing for sure: the Cub Foods CEO and his team would practice servant leadership and do everything they could to take care of their customers and their communities. One of his team's first calls was to Second Harvest Heartland, to see how Cub Foods could help.
A longstanding partner and our largest source of rescued food last year at 11.3 million pounds, Cub Foods powered our emergency food deliveries. Many farmers and retailers followed suit. The team at Fresha, in Morris, Minnesota, is a great example. They were searching for buyers for their delicious carrots that were just a little too imperfect in their appearance for grocery store shelves. A few calls to Second Harvest Heartland's sourcing team led to weekly deliveries of three-pound bags of carrots, many of which have since been provided to families through emergency grocery pop-ups. To date, Fresha has provided 277,000 of these three-pound bags.
With the food ready to go, our volunteers—socially distanced, masked and limited in numbers per shift—could get to work sorting and packing boxes containing 10 to 12 meals each. Volunteer Dave Windsperger has logged 129 shifts in our new Brooklyn Park Volunteer Center since the beginning of the pandemic. On one drive to his shift last summer, he slowed as he saw cars backed up, cautious and expecting an accident. Instead, he realized the cars were queued up to receive food distributions from a neighborhood church. It choked Dave up, and reinforced why he's been called to serve (five days a week!) packing emergency food boxes.
Last year we distributed 259,538 emergency food boxes, enabling quick, contactless curbside delivery. While representing only 3.5% of our distributed pounds last year, they've kept Gaylon Moody breathing a bit easier. He's president of the Le Sueur Food Shelf, an hour southwest of the Twin Cities, where he saw his volunteer workforce shrink and shift as the pandemic took hold. Meanwhile more and more neighbors were calling about food assistance, including many first-time visitors asking for help staying safe and fed.
"Overnight, folks who found themselves suddenly unemployed were showing up. Now they're regulars," Gaylon explained. "We sure are missing the connection that our food shelf creates for community members and visitors, but while COVID keeps our operations contactless, we're keeping people fed. We're meeting them where they're at until we can meet again in person. That's important."
Our teams take pride in these efforts and feel called to offer stability when it's needed most. One of our drivers, jumping into action on an early Saturday morning to get needed baby formula out to the community, said, "Everyone wants to help. We know it's how we keep our town strong, it's just that sometimes the troubles of the world seem so overwhelming, we think we can't make a dent in them, but we can." He's right.