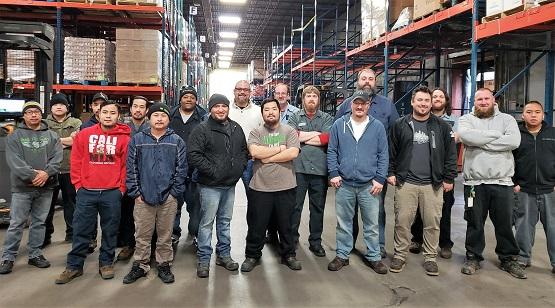 Like any hard-working trucker, you can find Pete Torsch most days of the week driving his designated route, focused on his deliveries for the day. His cargo, however, is unique. Pete rescues food—good, fresh and often gourmet—from landfills and delivers it to food shelves. He rescues the food from a growing group of grocers and retailers—such as, Cub, Costco, Aldi, Walmart and Target—that generously donate their extra food to feed their communities.
One of the stops on Pete's route is Valley Outreach Food Shelf in Stillwater, Minn., where, on a recent morning, more than 150 people shopped, choosing from fresh berries, bagged lettuce, apples, oranges, peppers, potatoes and onions, that he delivered.
"We work hard to source products from a variety of places to increase the quality and variety of items we offer. With Second Harvest Heartland making this a priority, it's much easier for us to meet the need," said Liz Riley, Director of Programs for Valley Outreach.
Pete is just one of many dedicated hunger fighters who help get food to those who need it most. Connecting fresh, healthy surplus food from retailers and food service operators takes a mighty team of hunger fighters—and that's exactly what we have at Second Harvest Heartland.
April Rog is Second Harvest Heartland's director of Food Rescue and leads a team of Food Rescue managers, developers, and specialists who work with donors and agency partners to get excess fresh, wholesome food to those in need. Fleet drivers collect food from retailers and deliver it to food shelves and other hunger-relief programs. Trained volunteers collect and deliver prepared food to small meal programs using the MealConnect program.
Melissa Seeley volunteers as a Food Rescue delivery driver and is part of a committed group of volunteers that collects and delivers prepared foods donated by food service operators to meal programs that serve our hungry neighbors. "The issue is connecting resources to those in need, which can present challenges, but even with my small participation, I see how programs like MealConnect can fill those gaps."
MealConnect is an innovative new online tool that allows Second Harvest and our agency partners to get real-time notifications of prepared food donations.
Here's how it works:
Caterers, restaurants, bakeries, cafeterias and event centers occasionally have prepared food they can't use. There may be an unexpected event, like a blizzard that causes a customer to cancel a catered meeting, for example.

The caterer then simply posts their donation on MealConnect.

Larger agency partners with resources such as staff and vehicles can collect the donation on their own. For those who lack those resources, MealConnect alerts volunteers that there is a donation available for collection and delivery.
"For a small shelter like ours, it's been invaluable," said Trish Brokman, director of Hope for the Journey Home, a shelter for families experiencing homelessness. "If we had to find volunteers to pick up the meals, it would be very hard. We're committed to feeding families healthy and unprocessed food as much as we can and MealConnect certainly makes that easier."
MealConnect has facilitated the donation of more than 300,000 pounds of prepared food to meal programs, providing valuable meals to families in our service area.
Our teams help food shelves and hunger-relief programs serve families in every corner of Minnesota and Western Wisconsin with a special focus on our most vulnerable populations—seniors and children.
Theresa McCormick is director of programs at Second Harvest Heartland.
In 2019, her team developed more than 20 new partnerships with schools in Minnesota to expand participation in school breakfast and after-school meal programs. More than 40 percent of students rely on free or reduced-cost school meals to meet their nutritional needs. And because of the outreach work of our SNAP (Supplemental Nutrition Assistance Program, formerly food stamps) team, in 2019, Minnesota families accessed nearly 3 million meals.
"Our team is focused on connecting more people to nutrition programs, like SNAP and school meals for kids," McCormick said. "Programs like these can help folks stretch their budget to ensure they aren't having to make trade-offs like choosing to pay the mortgage or rent over groceries."
Through the Commodity Supplemental Food Program (CSFP), our teams provided a monthly box of nutritious food (packed by volunteers at our Second Harvest Heartland site in Maplewood) to low-income seniors—more than 9,300 each month.
Grow with Us
Together with the help of our amazing community partners and nearly 1,000 food shelves and meal programs, we are well on our way to our goal of delivering more meals in 2020, but we're not there yet.