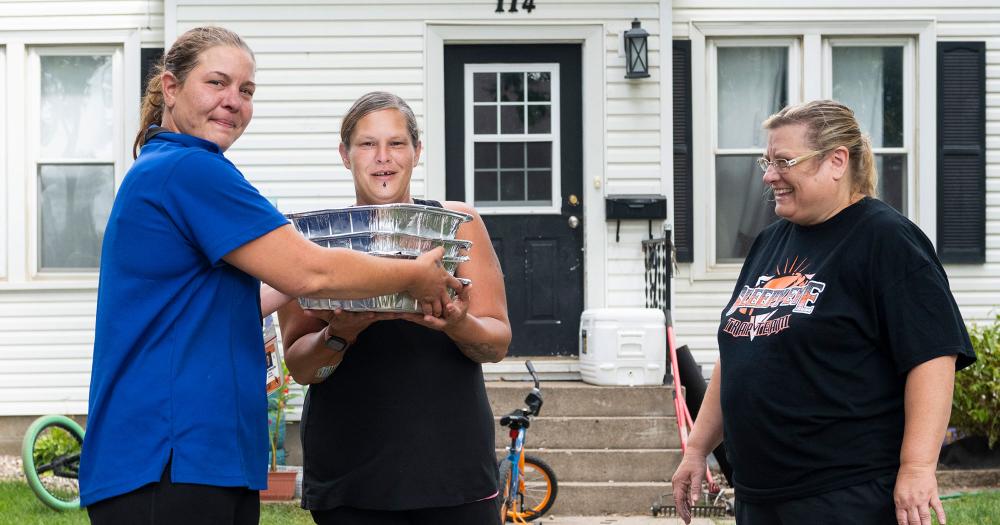 Making the Hunger Relief System Work for Seniors across Minnesota
Christi Gemmill's Thursdays are long. She leaves Sleepy Eye before 8 a.m., drives two hours to pick up freshly prepared Minnesota Central Kitchen meals in Minneapolis, and returns for meal distribution events on Fridays. For Christi, Sleepy Eye Public Schools Food Service Manager, the long days are a small price to pay for the joy the meals bring to the community.
Minnesota Central Kitchen, an initiative of Second Harvest Heartland, was born of twin crises during the COVID-19 pandemic: rising hunger and job losses in the restaurant industry. By rescuing food and employing more than 100 otherwise furloughed food service workers, Minnesota Central Kitchen has provided more than 20,000 meals per week to partner sites across the region. Sleepy Eye families have leveraged the freshly prepared Minnesota Central Kitchen meals to benefit the entire family, including seniors.
The State of Senior Hunger Report, released in August, revealed that seniors are facing challenges to food access many have never experienced before. Barriers to accessing nutritious foods can lead to additional health challenges for seniors, many of whom already experience food access barriers like limited income or lack of transportation.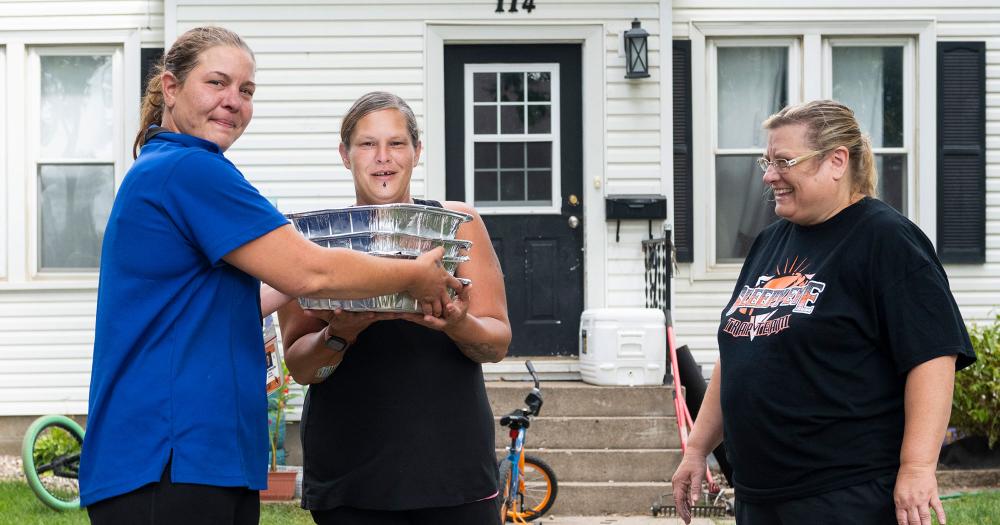 While programs like the Supplemental Nutrition Assistance Program (SNAP) provide much-needed assistance to many Minnesota families, seniors have some of the lowest participation rates. SNAP, an initiative of the United States Department of Agriculture, provides a supplementary benefit families may use to purchase healthy foods and move toward self-sufficiency.
When Sleepy Eye Public Schools became a distribution site for Minnesota Central Kitchen meals, many families saw it as a way to make the food assistance network work for them. Kathy Ahlrich saw an opportunity to share the family-style prepared meals among multiple households, providing several generations with access to reliable, nutritious meals that make a big difference to overall health and quality of life. For Kathy and her family, the meals came at a pivotal time and made all the difference—especially for Kathy's aging mother-in-law.
"We found out that my mother-in-law wasn't preparing meals for herself and wasn't eating very well," Kathy explains. "We noticed that she was kind of declining and having fainting spells. I didn't put the connection together that it was the food until the school had these meals."
"I didn't realize the quality of the product was so amazing," says Kathy, noting that the variety of meals has been an additional bonus. "We saw a change in her. She was more bright and brilliant and wanted to go on walks again!"
As a trusted community resource, Sleepy Eye Public Schools constantly looks for ways to connect more families to the healthy foods they need. Christi and her staff have continued the weekly Minnesota Central Kitchen meal distributions during the 2021-22 school year. Across the state in Foley, another trusted community partner pivoted efforts during COVID in ways that especially helped seniors.
Connie Cardinal runs Community Action Respecting Elders (CARE), where her committed staff and a bevy of volunteers serve seniors every day to ensure they can stay in their homes. The seat of Benton County, Foley is home to a high number of seniors 65 and older who live below the poverty level. Early projections indicated that Benton County would see an increased need for food access for seniors as the pandemic unfolded. At the same time, Second Harvest Heartland received additional federal funding to administer food boxes through the Farmers to Families Food Box Program, an initiative of the United States Department of Agriculture's Coronavirus Food Assistance Program (CFAP).
"Last year, we were approached by Second Harvest Heartland to help get food out because there were food insecurities throughout Benton County," Connie recalls. "I sat at my desk and when they said people didn't have enough food, I cried. I couldn't believe that there were people in our community and somebody's grandma that didn't have food."
Connie and her staff mobilized quickly, pivoting their services to add a weekly distribution of 1,500 CFAP food boxes. Within hours of the call, volunteers and donations flooded in to help distribute the boxes, providing everything from shopping carts to human power in the form of high school students and the volunteer fire department.
People like Joyce also answered the call to help. Joyce is both a CARE volunteer and a participant in the Nutrition Assistance Program for Seniors (NAPS), also operated by the USDA. Like many seniors, Joyce did not qualify for SNAP. However, Connie encouraged Joyce to find other ways to leverage available supports and make the food system work for her. Joyce qualified for NAPS, which has allowed her to access more healthy foods on a regular basis.
"I participate with the NAPS program where once a month we go and pick up a box of food, which really helps out for us because we're on a limited budget, like almost every senior here," says Joyce. "I didn't know what to expect, but when we got our first box of food, it was really great, and I've really enjoyed picking up that food once a month because it really helps."
NAPS boxes include a variety of foods, like grains and cereals, proteins, dairy, and fruits and vegetables. The boxes also come with recipe cards and nutrition information so participants can try dishes like salmon cakes—one of Joyce's favorites—or hot dishes. Joyce appreciates knowing that if she runs out of milk, her next NAPS box will have some so she can budget for other essentials.
Seniors across Minnesota have found ways to make the food system work for them. Kathy and Joyce both know firsthand that food assistance through programs like NAPS, CFAP and Minnesota Central Kitchen can make a big difference for seniors and their families, providing peace of mind and access to the fresh, nutritious foods they enjoy.