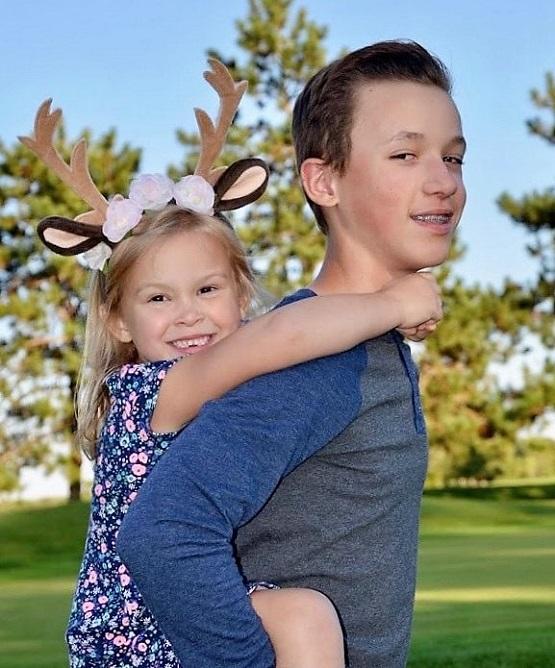 Know the Signs of Child Hunger
While many kids in our service area may be looking forward to a spring break vacation from school, many others—those who don't have enough to eat and rely on school meals to keep hunger at bay—may be dreading it.
It can be hard to believe, but 1 in 8 children in Minnesota is hungry—missing 31 million meals a year. More than half of those missing meals are from suburban areas. Owen wasn't aware a child hunger problem existed in his suburban community until he started volunteering with his mom at Second Harvest Heartland.
Owen began volunteering three years ago, on Bring Your Child to Serve Day—an annual Second Harvest Heartland event to join people across the country in service on Martin Luther King, Jr. Day.
The experience opened his eyes to the signs of hunger.
"I was really shocked by how many kids are hungry in Minnesota," the 13-year-old admitted. "It's not something that's easy to see. I think older kids are probably good at hiding that they're hungry."
More than 40 percent of K-12 students in Minnesota rely on free or reduced-cost meals during the school year. When school breaks for the summer, those kids lose access to the nutritious food they need to thrive. In Owen's school district, ISD 624 in White Bear Lake, nearly 2,500 students are eligible for free or reduced-cost meals. Yet of those students, only 38 percent are eating breakfast, which means many kids could be starting the day on an empty stomach.
Students who are hungry may struggle to concentrate in class and fall behind academically. They may be more likely to miss school due to illness and suffer from irritability, low self-esteem or a lack of energy. They may also experience behavior problems and frequent trips to the nurse's office. Hoarding food and snacks is also a sign of child hunger.
"When I hear about a kid acting out in class or always going to the nurse, it makes me wonder," Owen said. "That kid might not have enough to eat. I think we need to do more to help because no one deserves to be hungry—least of all a kid."
Theresa McCormick is director of programs at Second Harvest Heartland. According to McCormick, parents can be powerful champions for school meals and ensuring all kids are fed.
"Parents can reach out to their school district's nutrition services to learn if their child's school serves Breakfast After the Bell," she said. "I encourage parents to work with their PTA and school nutrition professionals to promote school meals and make them accessible for all kids. Having fun taste-testing events is a great way to get kids excited about school meals and reduce stigma."
If you are concerned that a student in your child's class may be struggling with hunger, it's important not to single them out or embarrass them in front of their peers or teachers. The best course of action is to reach out to a school administrator, teacher or guidance counselor with your concerns.
Grow with Us: How We Help and How You Can Join Us
During the 2018-19 school year, Second Harvest Heartland's school nutrition program—a program that offers support for accessing federal nutrition programs, community resources, and food distributions—facilitated the addition of more than one million federal nutrition program meals, helping to ensure that all kids have the food they need to grow and thrive.
Through our Supplemental Nutrition Assistance Program (SNAP) outreach work, we processed 158 SNAP applications and helped provide 768,319 meals to schools. But we still have a long way to go before we can say that no child suffers from hunger.