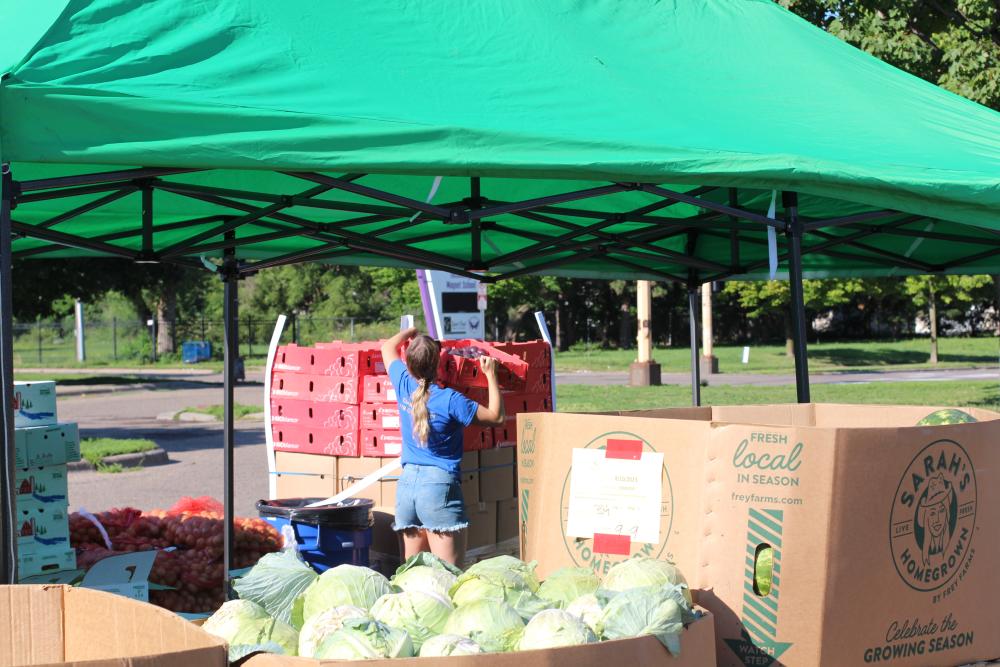 Keystone Community Services Stays On The Move
On a beautiful afternoon in Saint Paul's North End, invigorated volunteers begin setting up bright green tents in the parking lot of the Rice & Arlington Batting Cages. The distribution event doesn't begin until 10 o'clock, but a line of cars is rapidly forming as members of Keystone Community Services set out orange traffic cones to help with the flow of traffic.
In front of a large Keystone Community Services box truck, Julia McCarthy, Director of Programs for Keystone Community Services addresses a group of volunteers as they prepare to fill bags of fresh produce for people waiting patiently in their cars. "In this neighborhood, 20 to 25% of people have food insecurity at some point during the year. You can't always see it. It's not always obvious. You'll see some cars drive through here today and you might be like, 'that's kind of a nice car,' but you don't know what's going on in that family, or who they might be picking up food for."
During Covid, Keystone needed to come up with a new and safe distribution model to make sure that neighbors were receiving fresh fruits and vegetables. Their solution: a drive-through farmer's market where volunteers package seasonable produce such as plums, sweet corn, watermelons, and potatoes, and place them in the trunks and backseats of cars. The model proved so effective, for both logistical purposes and neighbor experience, that Keystone has continued their drive-through events through the summer and fall.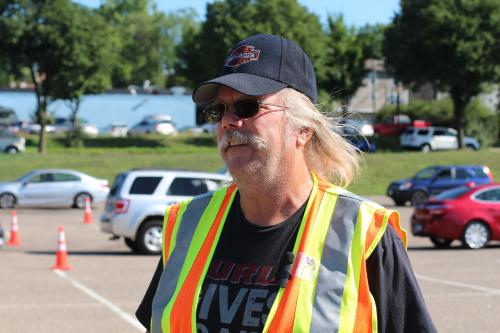 A volunteer directs traffic at Keystone's Drive-Through Farmer's Market
Keystone is constantly on the move—not only do they provide drive-through farmers markets in Saint Paul and Roseville, they have two Foodmobiles (food shelves on wheels) that go out into the community, delivering food to in places where people might not have transportation or easy access to food support. Keystone also provides a grocery delivery program where elderly and disabled people can get food shelf items delivered by volunteers.
Keystone has operated these on-the-go operations out of their two Saint Paul food shelves but are excited for the construction of their brand-new Community Food Center located on the corner of Beacon and University Avenues in Saint Paul. This new 20,000 square foot building broke ground in June of 2023, and will house their food market, warehouse space, and a garage for their Foodmobile fleet. This new space will not only offer an expanded shopping space for neighbors, but also provide consultation spaces to help people apply for financial assistance, including enrolling in public programs like SNAP.
"As need has grown throughout the pandemic and beyond, Keystone not only pivoted to meet the rising demand, but they have also continually looked to improve their services to provide an even more welcoming and culturally connected experience," says Lisa Boyd, Second Harvest Heartland's Partner Relations Specialist. "More than just a thought leader, they are putting their best ideas into action with their new Food Center and expanded Foodmobiles."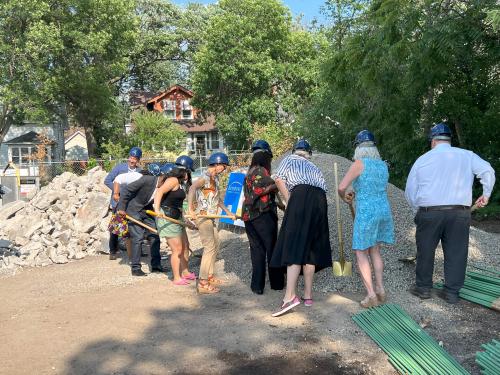 Keystone Community Services officially breaks ground for their new Community Food Center
While the new Community Food Center will provide an amazing hub to assist hundreds of households in Ramsey County every day, Julia recognizes the importance of drive-through distribution events and see it as a value part of the quest to end hunger. "This model is unique because we don't ask people to register, provide names, or give any identifying information. It has been a nice way to reach those who might be a little hesitant to go to our food shelves."
Through Keystone Community Services' innovative combination of brick-and-mortar food shelves and hitting the road to provide hunger-relief through mobile food shelves, grocery delivery programs, and drive-through farmer's markets, they have effectively provided basic needs for the people of Ramsey County for over 80 years. And with the launch of their brand-new Community Food Center, they will be well prepared to make a huge impact in the fight against hunger for decades to come.