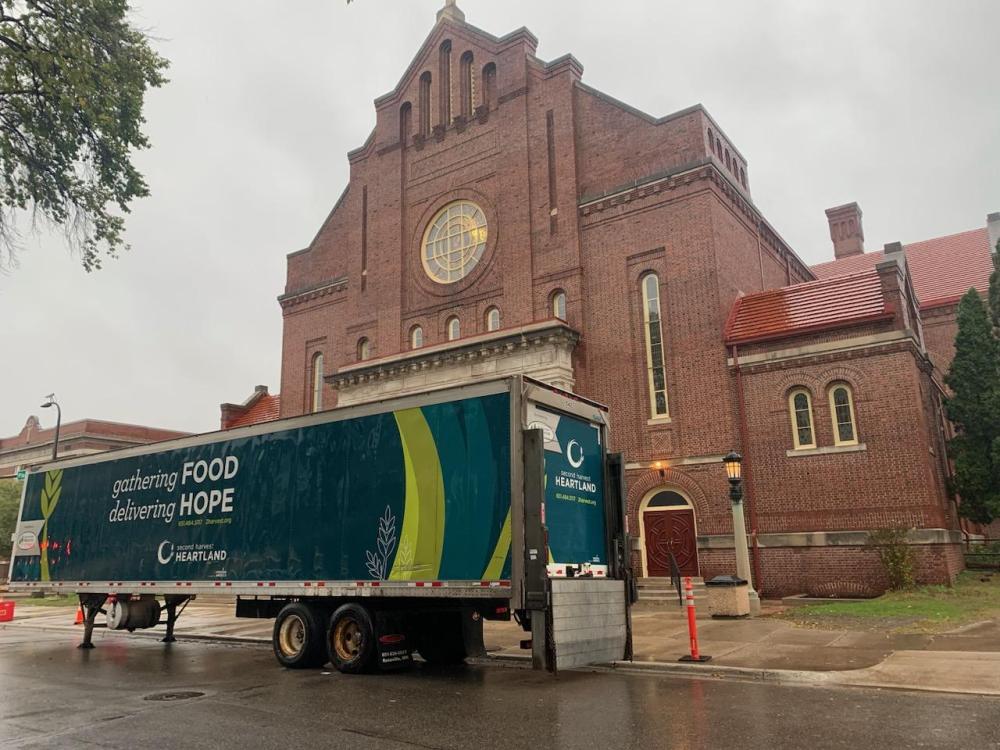 It's All About That Trust: Providing Community at Harvest from the Heart
On a rainy morning in South Minneapolis, lines of neighbors huddle underneath a brick awning that leads to the Harvest from the Heart Resource Center and Food Shelf. A part of the Church of the Incarnation, the parish has hosted a food shelf on premises since 1983 and has been supporting the community for forty years.
Despite the rain, everyone waiting for Harvest from the Heart's doors to open is in good spirits. Children are running around playing in the courtyard while members of the community look on from their portable lawn chairs. This sense of camaraderie is what makes a food shelf like Harvest from the Heart special—the bond created between their staff and their neighbors creates an environment where everyone is looking out for one another.
This trust is crafted through careful consideration and proper planning by the food shelf's leaders. Harvest from the Heart's current space is a converted four-car garage that has been transformed into a small neighborhood market. "We are what we call a corner bodega, a corner store. We don't have everything. We are filling in the gap," says Dan, head of development for the Church of Incarnation.
Six families enter the food shelf at a time, where they take a shopping cart through the aisles, stocking up on fresh produce, protein and baked goods. The Food Center Manager Piti and staff members like Christopher assist shoppers in selecting items, pointing out what is in stock today and providing recipes and guidance in both English and Spanish. "Everyone who works here is bilingual," says Christopher. "It helps because you really get to know some of our regulars."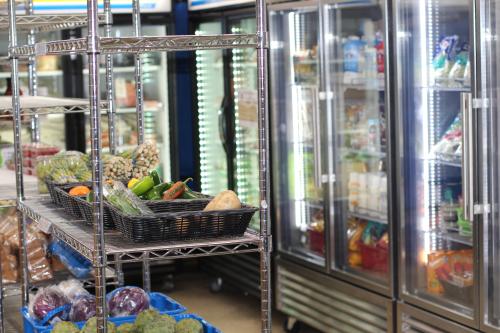 Harvest from the Heart's bright and welcoming space provides a great shopping experience.
There is no limit to the amount of food each family can take. "We used to have people come and take 60 pounds of food, but then not return for a while. Now it is more consistent. We ask that people limit their visits to twice a week and people are good about that. They understand that they need to not get an extra bundle of bananas because they need to save some for everybody," says Dan.
After completing their loop through the aisles, groceries are weighed and bagged, and shoppers input their phone number so Harvest from the Heart can track demand, which they share with Second Harvest Heartland. Having this information helps track our progress, the overall need, and what we all need to do to help our partners and neighbors thrive.
On this particular Friday morning, Second Harvest Heartland CEO Allison O'Toole and WCCO's Vineeta Sawkar were among the volunteers helping shoppers load bananas and watermelons into their take-home bags.
"I'm near the neighborhood, so I see all the activity. My grandparents used to come here to church. Our drugstore was just right up the street. This feels like home to me. The trust that they've built up over time because of how they do things: mass in Spanish, culturally appropriate food. It's all about that trust," says Allison.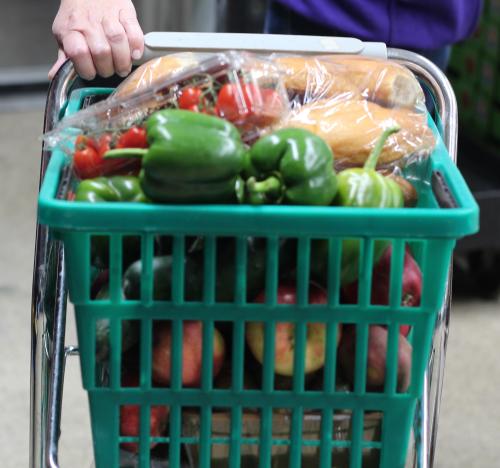 Shoppers can fill up their carts with as much food as they need.
Trust building involves creating relationships and a welcoming community for all those who use Harvest from the Heart's services. Shortly before the doors opened, word got out that it was one of the regulars' birthdays. Volunteers were able to reserve a cake for her, and neighbors waiting in line sang "Happy Birthday," in both English and Spanish.
"Our people are wonderful," says Dan. "The line has become its own thing. People love it—they socialize. She wasn't going to come today but wanted to see everyone on her birthday."
By building this sense of trust amongst the community, Harvest from the Heart has created a caring and welcoming space for their neighbors. Through listening and adapting their practices to their community's needs, Harvest from the Heart continues to provide not only nutritious food, but a sense of comfort to so many families.