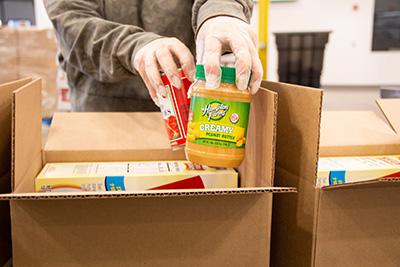 How Two Multitasking Volunteers Are Helping End Hunger
During this April's Volunteer Appreciation Month, we are highlighting various ways our volunteer partners are making a difference for Second Harvest Heartland and those we support. This week, we focus on two volunteers who give their time with us in an ongoing capacity and in multiple roles.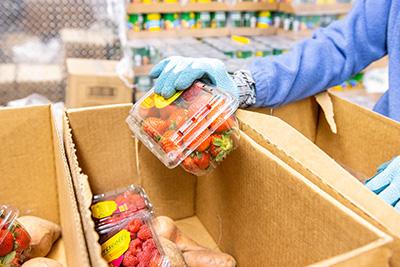 Corey Siewert and Pam Berendt started volunteering at Second Harvest Heartland as Senior Hunger Distribution Site Volunteers where they help distribute Commodity Supplemental Food Program (CSFP) boxes to seniors. Corey searched Second Harvest Heartland's Volunteer Central website and found an open volunteer position at Robbins Landing, very near his home. Pam found her opportunity in the Star Tribune's weekly "Inspired" section in the "Get Involved" column. She helps at Hopkins Village, located near her home. Each volunteer spends two to three hours a month assisting seniors when the delivery truck arrives from Second Harvest Heartland with food boxes. Pam and Corey both agree that they have built relationships with many appreciative seniors in their communities.
Nine months ago, Corey Siewert decided to take a step away from his 25-year corporate meeting and events career to explore transitioning into a service-oriented nonprofit role. He volunteers for various organizations, including Second Harvest Heartland where he has had three different roles. Along with CSFP box distribution, Corey has assisted with registering new CSFP participants and updating information for existing participants, as well as delivering FOODRx boxes.
"Second Harvest Heartland is such a well put-together organization, and their volunteer programs are well run," says Corey. "It's very easy to volunteer, and even giving just a little bit of time, I get so much back in return."
Pam recently retired and returned from Texas to her home state of Minnesota. Besides helping distribute CSFP boxes, Pam spends ten hours a week at our Brooklyn Park facility with the FOODRx team, calling clients with chronic health conditions that warrant special diets. She explains the program, enrolls clients and follows up after FOODRx boxes are received.
"It's a very welcoming atmosphere," Pam says. "Second Harvest Heartland embraces their volunteers. They are a fun, dedicated group of people."
When we asked Corey why he volunteers, he states, "Volunteering feels great, and there is no other organization with the breadth of programing that utilizes a national network like Second Harvest Heartland."
Second Harvest Heartland is immensely grateful for the ongoing support of over 180 individuals, like Pam and Corey, who volunteer each week or month to assist us in our mission of ending hunger together.
Join a team of hunger fighting volunteers through a variety of ongoing opportunities! More information on these roles can be found on Volunteer Central.