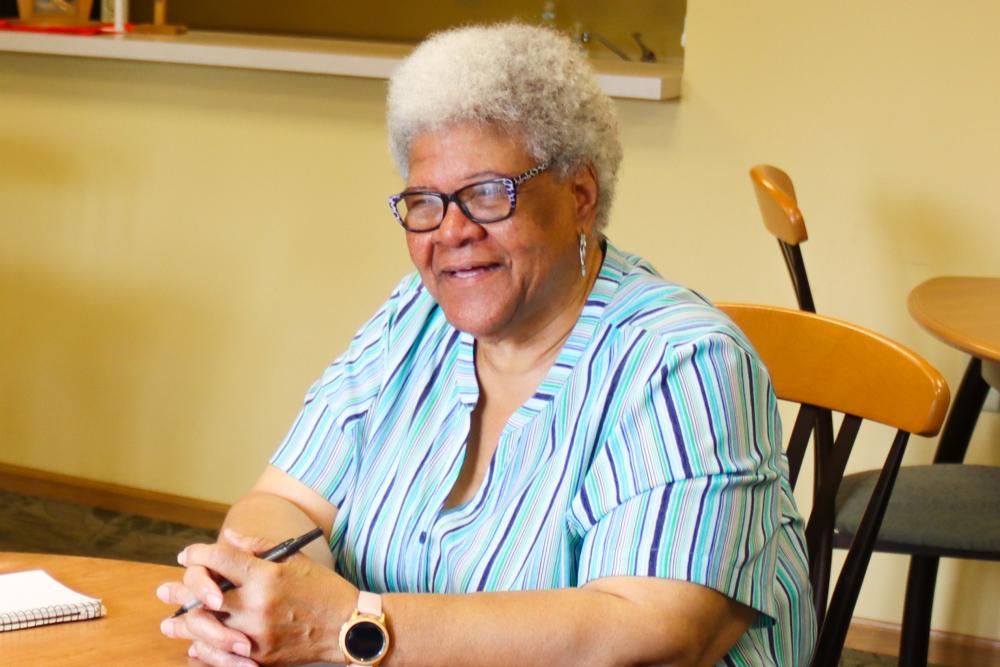 How Senior Food Box Delivery Helps Reaver Stretch Her Grocery Budget
Reaver is one of the many seniors in Minnesota that faces barriers to getting healthy food. She no longer drives a car and deals with chronic back pain, so shopping at a grocery store can be challenging.
"If my back starts hurting, I can't stay with the cart," she explains.
Around five years ago, Reaver started receiving free food boxes from the Commodity Supplemental Food Program (CSFP), also known as the Nutrition Assistance Program for Seniors (NAPS). She previously picked up her box with assistance from Metro Mobility but has been getting the boxes delivered right to her apartment building for the last couple years.
With delivery, Reaver can pick which products she'd like to receive each month. She works with Second Harvest Heartland's CSFP Distribution Coordinator Sofia Brown to decide what food to include in her box and coordinate having it delivered to her home in Northeast Minneapolis.
"[Sofia] has a variety that she offers me," says Reaver. "She knows me and pretty much exactly what I need or what I want, so that's comfort."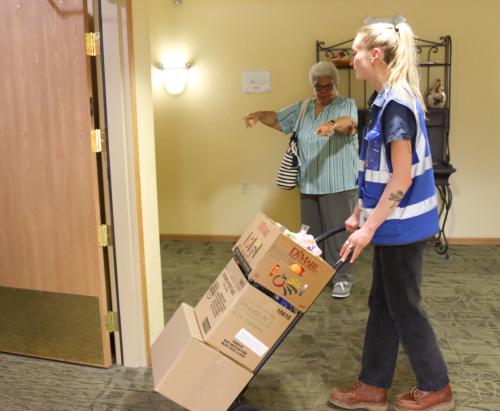 Sofia delivering Reaver's food box.
Reaver says she can usually stretch her groceries so the food she receives from Second Harvest Heartland will last until her next box arrives. She also participates in another meal program that delivers frozen, premade meals to her home, which helps her stretch her food budget.
"It's just like your money at the end of the month," she explains. "You got a lot of money, you think, and then the money gets really short."
Goulash and Jell-O with canned fruit are a couple of Reaver's go-to recipes she makes with items from her monthly food delivery. She says a meal she creates with groceries from the box will usually last her three or four days.
"I know that when I eat, I'll eat the things that will sustain me," she says of the food she receives. "I'm always full. I'm never hungry, thank goodness."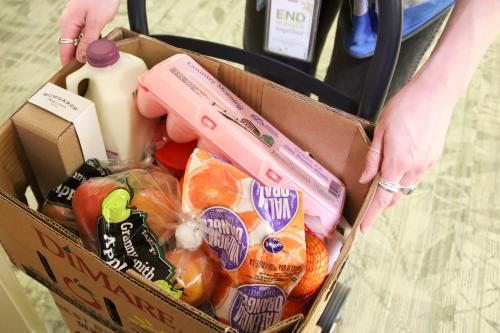 Reaver's monthly senior food box delivery.
Reaver appreciates the variety of food that comes in her monthly senior food box, as well as the additional items that Second Harvest Heartland adds to her order, like vegan butter. 
"That's a big thing because my sons are vegans," she says. "I have to remember how to cook when they come to visit!" 
Living in an apartment building with other seniors, Reaver tells her neighbors about the food boxes regularly and encourages them to sign up because of her great experience with the program.  
"Well, I think I'm in heaven," Reaver says with a laugh. "What makes me feel so good is that I get it and it's free and it's beneficial to me… that's a blessing to me."