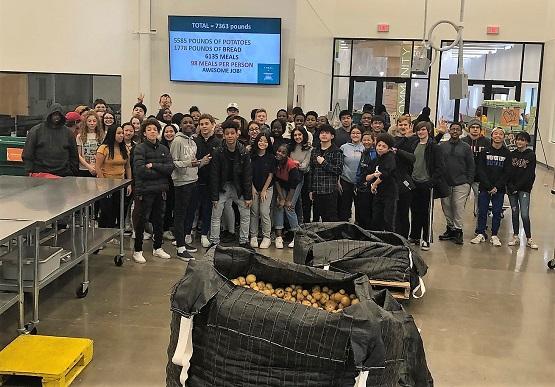 High School Students Reflect on the Problem of Hunger
Volunteering at Second Harvest Heartland can have a big impact, not only on the hungry families we serve but on the volunteers themselves. A group of high school students from Woodbury, Minn., recently volunteered at our new Brooklyn Park facility and walked away from the experience with a new awareness of and appreciation for the problem of hunger in our communities.
Lisa Hyland, who teaches English at Woodbury High School asked her students to write about their volunteer experience. Hyland shared her student's reflections, which had these common themes:
I had no idea so many people needed food.
I had a lot of fun and made a difference at the same time.
We can do just a little and have a big impact.
I realized if everyone served a little that it would help a lot, so I am going to serve more.
My family has relied on food shelves, and now I know how important it was for people to volunteer so we had food to eat.
"These are powerful statements that can and will impact how they serve their communities in the future," said Hyland. "We feel like this is an important part of their character education, and we appreciate being able to come. We will be back next year."
Volunteers like these Woodbury High School students are essential in helping us achieve our mission to end hunger together.
In addition to sorting and repacking food, the time and talents of skilled volunteers are always needed. We offer a variety of opportunities from Food Rescue Delivery Drivers to Lead Volunteers to ongoing office volunteers and more. We also have unique opportunities for volunteers to share their marketing, development and fundraising talents to help us continue to innovate.
Visit our Volunteer page for more information. We would love to have you join the team!