The Good Acre is Building Equity by Supporting Farmers and Eaters
Black, Hispanic, Asian and Indigenous Minnesotans are at least twice as likely as White Minnesotans to experience food insecurity. Racial disparities like these are what we refer to as the hunger divide and Second Harvest Heartland is working with partners around the state to address these disparities.
One way we are working to confront racial disparities in hunger is by purchasing from farms owned and run by people of color. As a large produce customer, Second Harvest Heartland has a responsibility not only to support our partners and their clients experiencing food insecurity, but to strengthen our agricultural community and address its persistent inequities.
Beginning this growing season, we launched a three-year partnership with The Good Acre to support farmers of color in establishing and growing their farming operations. The Good Acre is a nonprofit organization whose mission is to connect and strengthen farmers, food makers and communities through good food.
Stable, multi-season opportunities like this are needed to address the historic and structural inaccessibility of land, credit and markets for farmers of color. By strengthening the economic power of farmers of color, this partnership also addresses hunger as it exists today while building generational wealth for longer-term stability.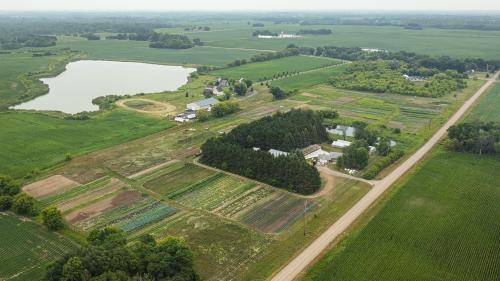 Moses Momanyi is the owner of Dawn2Dusk Farm in Cambridge, Minnesota, and one of the growers that partners with The Good Acre to sell his organic vegetables.
"Farming has a lot of other factors that go into it to make it successful. While you're farming, no one will guarantee you they'll buy your stuff, so that means you have to think of 'where am I going to sell?'" said Moses. "If we have people who are ready to buy, it takes that big burden off the farmers."
The partnership launched this summer with 25 participating farmers who will sell 150,000 to 200,000 pounds of vegetables—including varieties beloved by various cultural communities—to Second Harvest Heartland. Second Harvest Heartland will in turn distribute produce to its network of food shelf and meal program partners and farmers will be paid the current market rate for their products.
In years two and three, the partnership aims to grow to more than 250,000 pounds of food each year.
To learn more, visit thegoodacre.org or 2harvest.org/hungerdivide.