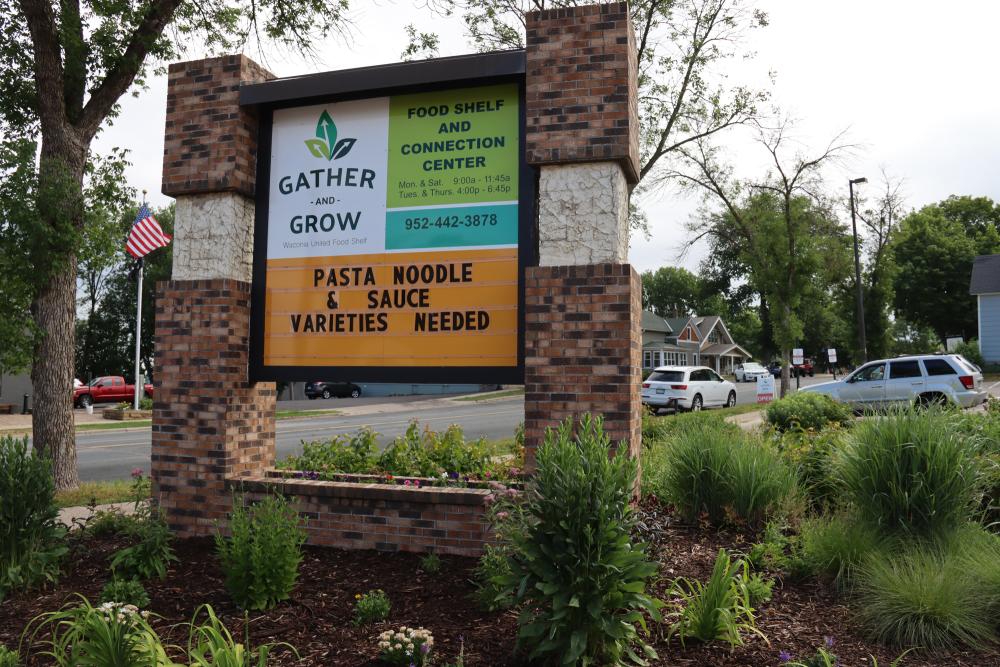 Gathering Support and Growing Community at Waconia's Food Shelf
The executive director of Gather and Grow Waconia United Food Shelf, Angie Cruzen, says she wants shoppers to feel like they are in a "mom and pop shop." They have created a welcoming environment that continually adapts to meet the needs of their community while advocating for improvements at the policy level.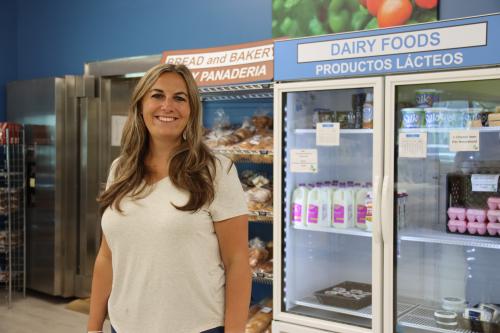 Executive Director Angie Cruzen
The SuperShelf food shelf located in downtown Waconia has found several ways to meet the specific needs of their community. After noticing that some families were having difficulty with meal planning or knowing what to cook with ingredients found at the food shelf, they created their Fresh Table Program that provides meal kits. Shoppers can take a bag including a recipe and all required ingredients to prepare a meal or dessert each time they visit.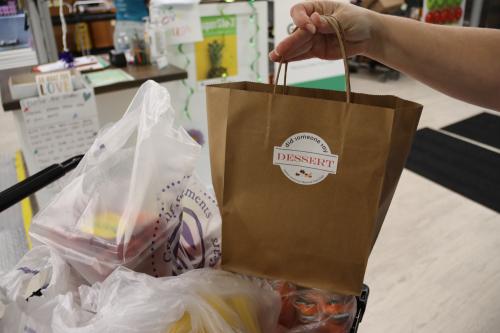 A Fresh Table Program kit for a dessert
They also contract with another Second Harvest Heartland agency partner, Mi CASA, for translation services for Spanish speaking shoppers in response to the area's growing Latinx community. This partnership is funded by a grant from Carver County.
Pam, a Gather and Grow shopper and mom of two teenage boys, enjoys getting a lot of fruits and vegetables from the food shelf. She also appreciates the Fresh Table Program for the additional food and the ease of meal planning.
"They give you everything that you needed, including butter or oil or whatever that you needed to go into that. So that helps a lot," she says of the meal kits. "[Meal planning] does take up quite a bit of time and lot of brain power that you don't always have when you have kids around."
"They're always friendly, they always want to help," Pam says about the staff and volunteers at Gather and Grow. "They always take care of you – make sure you have what you need. It's a great experience."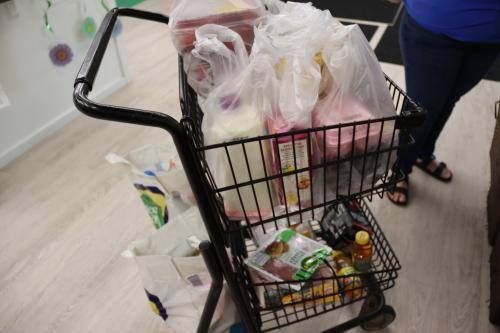 Pam's groceries
Another shopper, Maria, has been visiting the food shelf for about two years because she often finds she needs extra food with four kids at home during the summer. Maria's kids, ranging in age from 14 to one, are all home from school, so she needs to prepare large meals to feed everyone.
She says she likes it at Gather and Grow because they let her choose her own food. That way, she says, she feels like she is taking what she knows she will use. She enjoys the variety, but especially enjoys the fresh fruits and vegetables.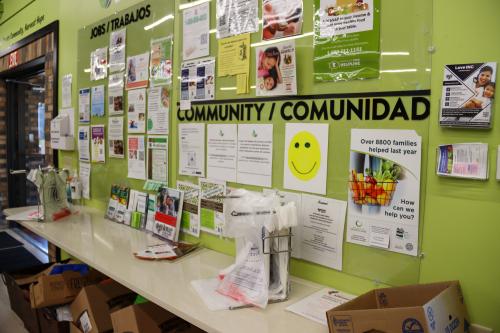 The community board shares a variety of resources and opportunities in both English and Spanish.
Angie is committed to supporting her community, not just through food shelf offerings, but by building connections and advocacy efforts. She builds relationships with elected officials and has participated in Second Harvest Heartland's Farm Bill Listening Sessions and Hunger Day on the Hill. She encourages her peers to do the same, saying that these events can be eye-opening.
By responding directly to community needs and advocating at the policy level, Gather and Grow is serving their community today while advocating for a better future.
To learn more about Gather and Grow Waconia United Food Bank visit https://www.waconiafoodshelf.org/.