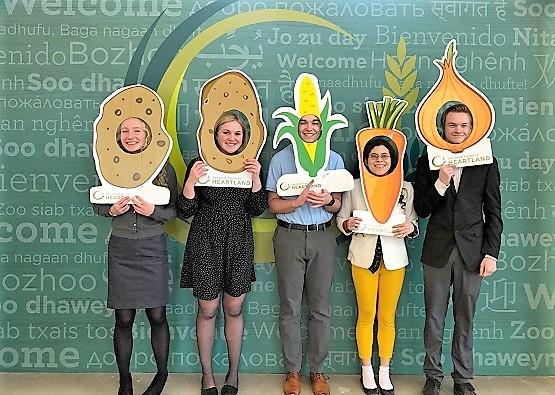 Future Hunger Fighters: Minnetonka High School Students Fight Stigma
One of the biggest myths about hunger is that it's an inner city or urban problem. The reality is, hunger exists in every zip code in Minnesota, including many suburban and rural communities. Hunger even exists where you'd least expect it: in affluent suburbs.
A group of Minnetonka High School students is challenging this myth and bringing the issue of hunger in their community into the light. The students are part of a unique program at the high school that aims to engage students in solving real-world problems through project-driven work with teachers and subject matter experts.
To learn more about the impact of hunger, the group collaborated with Second Harvest Heartland's Child Hunger team, led by Director of Programs, Theresa McCormick. Working with Second Harvest Heartland, the students developed a global sustainability project to reduce childhood hunger and food insecurity. After presenting their project and research outcomes to the team, the group will give a formal presentation to the Minnetonka school board.
In the presentation, the group recommends building personal relationships with students and families to increase awareness and bring hunger out of the shadows. The goal is to help change negative perceptions about hunger and food assistance—starting in their own school—while stressing how important free and reduced-cost school meal programs are to the health and wellbeing of all students.
"While we partner very closely with school administrators, teachers, school boards, one of the most important groups to talk to are the students themselves," said McCormick. "The stigma surrounding free and reduced-cost school meals makes it difficult to connect kids in need to federal meal programs. Their families may not even know the programs exist. And it can keep hungry kids out of the cafeteria."
Get Involved!
For each local person who is hungry, there are ten people who can help. The only positive part of hunger is that it's a solvable problem. Just ask Minnetonka High School students.
Start with a few dollars, a few pounds of food or a few hours volunteering. That's all it takes to make a difference. Learn more about how you can help.