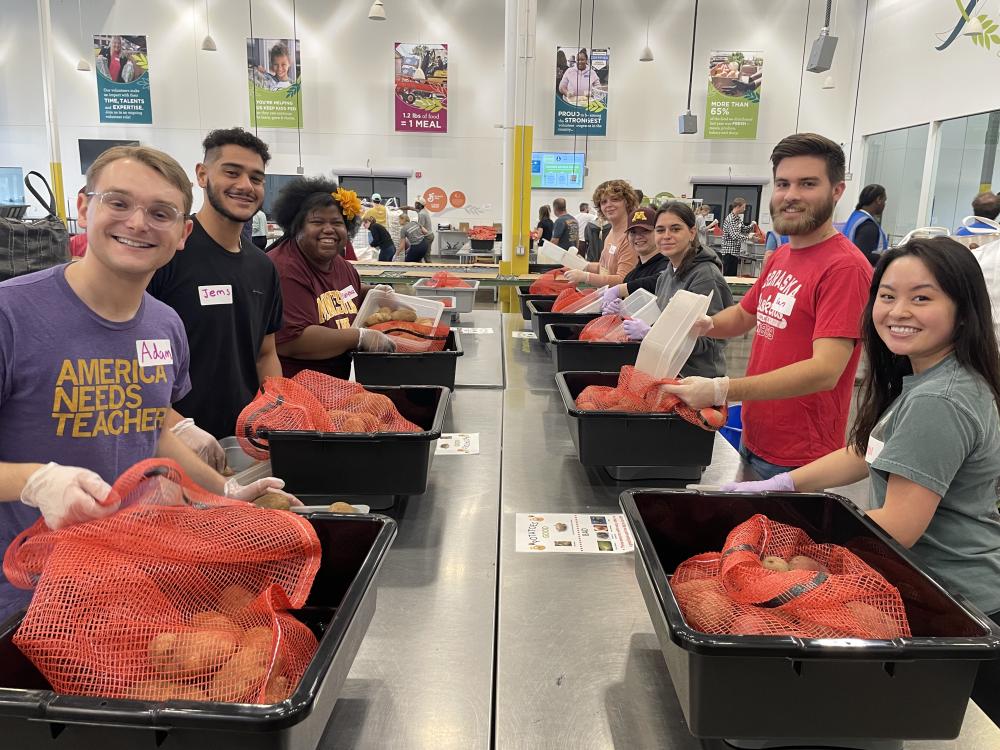 A Fulfilling Effort: The Ways in which College Students Volunteer at Second Harvest Heartland
On a Saturday afternoon in September, Second Harvest Heartland's Volunteer Center is bustling with college students in Minnesota Law sweatshirts packing red mesh bags of potatoes for distribution to our many partners. These students are recent enrollees in the University of Minnesota School of Law and members of Professor John Matheson's Contracts course, where future lawyers and policymakers learn about legal issues affecting enforceable agreements. Professor Matheson recognized the importance of providing service opportunities to his students to help them recognize the people they serve. "I like to say that we take great people as our students and help them become great lawyers. But part of becoming a great lawyer is not only learning how to represent your clients and do a good job of being a zealous advocate, but also being a good citizen in your community. And that starts with service."
Professor Matheson is just one of the many educators in the state of Minnesota who recognize the importance of volunteering one's time when enrolled as a college student. "Law school is difficult," says Professor Matheson. "I want them to understand that just like they have to engage in self-care for themselves, it's important for them to be able to continue to do work in their communities."
Students from John Matheson's Contracts class at the University of Minnesota volunteered their time at Second Harvest Heartland.
Students packing fresh produce in our Volunteer Center is just one of the ways Second Harvest Heartland partners with college students looking to serve. Megan, a first-year graduate student at the University of Minnesota in the School of Public Health hands out Kitchen Coalition meals at the University of Minnesota-St. Paul Campus. "I was one of the co-presidents at our food pantry at my undergrad. When I came to the University of Minnesota, I wanted to give back to the community. But also, it's just so important to address needs and making sure that everyone has adequate access to food and resources. I'm not just here to give food out to individuals, but also answer questions and really connect with the community."
Second Harvest Heartland partnered with the University of St. Thomas for The Twin Cities Meal Pack for 9/11 Day event, held at the St. Thomas Anderson Athletic and Recreation Complex co-hosted by the St. Thomas Athletics Department. Student athletes and members of the community all gathered on the St. Thomas basketball court to help pack over 600,000 meals shelf-stable meals to be distributed by Second Harvest Heartland all over Minnesota. "We get a lot from the school and the community, so it feels good to give a little bit back," says Sophia, a member of the St. Thomas Women's Swimming & Diving Team.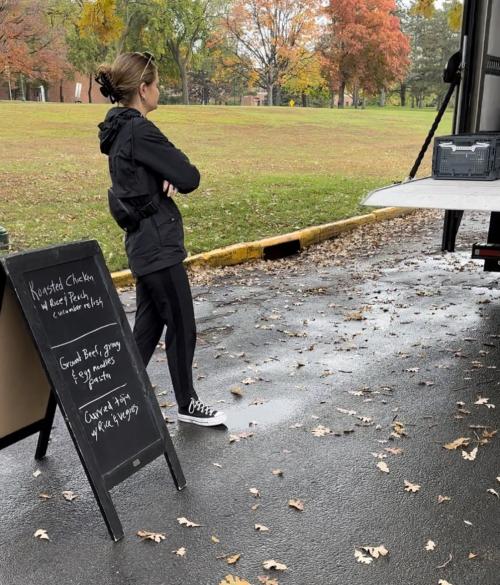 Megan helps distribute Kitchen Coalition meals on the University of Minnesota-St. Paul campus.
Second Harvest Heartland has a passionate group of student volunteers that work with our Volunteer Engagement Team over the course of a semester. Bri Johnson is the volunteer engagement specialist at Second Harvest Heartland and oversees many of these student volunteers. "Many colleges and universities are starting to implement a service-learning requirement for students as a way to get them to connect with their local nonprofits and learn more about systemic issues that affect our community," says Bri. "The University of St. Thomas has been a great partner in this work and with their partnership we've been able to welcome many student volunteers from not only their program but from other universities and colleges as well." 
One of these student volunteers is Lauren, a student at St. Thomas majoring in marketing. "I've participated in several of the Brooklyn Park packaging shifts, but I've also been a part of a remote project, where I organize a bunch of documents and site agreements on [Second Harvest Heartland's online file system] to help make it more accessible to Second Harvest Heartland employees."
"It's been really cool to see a community come together with the specific big goal of ending hunger together."
Tasmiin, a student at Metropolitan State University, is enrolled in a practicum course as she works toward a degree in human services administration. "Food insecurity really hits close to home for me. I feel really passionate to be in this line of work, and I want to have a job that's fulfilling in my life."
Tasmiin has acted in multiple roles during her time at Second Harvest Heartland, including sorting and packing in the Warehouse and Volunteer Center, as well as helping at the Dish Gala.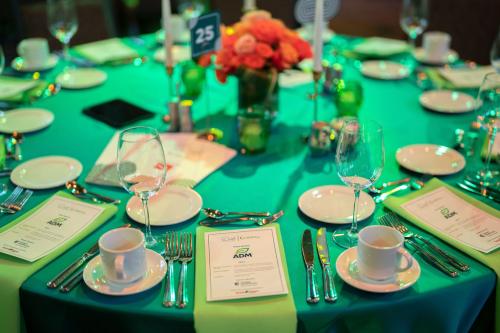 Tasmiin and other student volunteers helped create table settings for the Dish Gala.
"In the morning, we set up tables and flowers, which was a lot of fun. I am looking to explore a career that involves organizing and planning—that's my strong point. I think many people view human services as client-facing, but I love all the stuff that goes on in the background. People tend to forget the roles that are in logistics, or the planning, or the administrative work. So, an event like the Gala and being part of that engagement team is very much me." 
Tasmiin has also used her time at Second Harvest Heartland to network as she finishes her studies and moves into the workforce. 
"When I go into the Volunteer Center in the evening, I chat with people from all walks of life, whether it's other college students who go to St. Thomas, or people who are there to help and are passionate about what they do. Bri has been flexible in terms of finding things for me on the weekends or during evening shifts. I work a full-time job and go to school full-time too."
Second Harvest Heartland is grateful for all our college-aged volunteers packing, distributing, planning, and advocating to help reduce hunger in the state of Minnesota.
"My students are in their first four weeks of law school—and they're communicating with their support groups about what is going on in their classes," says Professor Matheson. "And now they get to say, 'Do you know what I did this weekend?' They're proud of what they're doing, and so they spread that message."