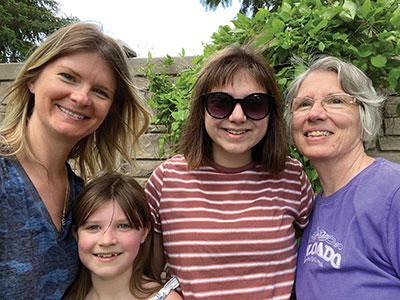 2020 was defined by the acts of giving and receiving help. Record numbers of folks experiencing hunger reached out to the emergency food system for assistance with groceries and peace of mind. Their needs were met by record numbers of their neighbors, who showed up for them and gave donations to the hunger fight whenever they could. More than 66,000 donors supported Second Harvest Heartland to ensure we were up to the challenges of the year.
One of them, Emily Van Laar, has been a supporter for more than a decade. Taught from a young age by her mother, Sandy, to care for your neighbors (not just those living next door, but those you don't know), Emily said, "My mom demonstrated that philanthropy is not something one chooses to do on occasion, but rather an opportunity that we can incorporate into our everyday life. I am grateful that my daughters have embraced this philosophy and have joined my mother and me in packing food, collecting for food shelves and volunteering at our local church."
As a long-time donor, Emily was proud to see how Second Harvest Heartland rose to the challenges that 2020 presented, observing leadership in program execution, sourcing food in creative ways, tackling the logistical challenges presented by the pandemic, maintaining fresh food distribution and more. Resolutely, she knows that 2021 stands to be another difficult year for so many neighbors.
"Some may not be able to give financially, but we can still be philanthropists by our actions, like holding a door for someone, extending a kind word or smile, checking in on a neighbor or volunteering your time. I can think of no better way to overcome the challenges of the pandemic than to give back to each other."