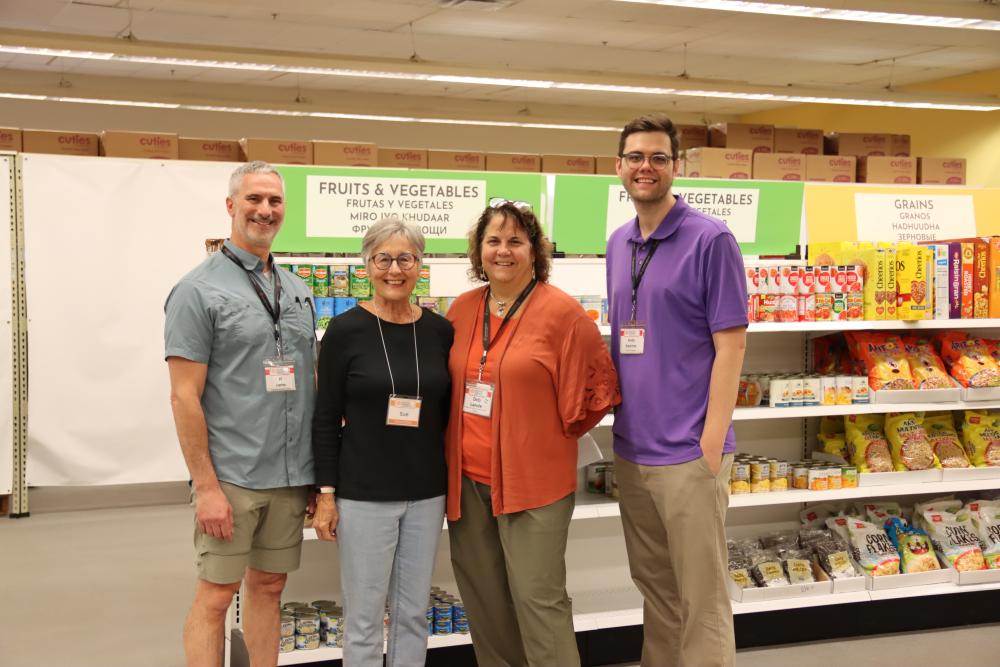 "It was a good year for zucchini."
The Interfaith Outreach & Community Partners (IOCP) Food Shelf, located in Plymouth, Minnesota, receives deliveries of fresh produce and protein from Second Harvest Heartland to help stock their bright and cheerful SuperShelf site. Sue, a volunteer at IOCP who has been with the organization through multiple spaces and iterations, reminisces about one summer where they received a delivery of fresh produce from Second Harvest Heartland stocked with boxes of zucchini.
"One of our neighbors came in and noticed the zucchini, and said 'oh, how much can I have?' She said that she makes guacamole—fake guacamole—with zucchini. She said the people that she serves it to don't know that it's not avocado-based, and it's so much cheaper."
The neighbor shared the zucchini guacamole recipe with Sue, and the phenomenon spread throughout the food shelf. "I made it and served it to my family, and they loved it. The next day, I brought the recipe to a co-worker, who tried it and loved it. So we printed out a whole bunch of cards with the recipe on it. The next thing we know we have 50 people in this town making this recipe. There are folks who say they would've never tried this in a million years, but now we have members of our community trying another member's recipe."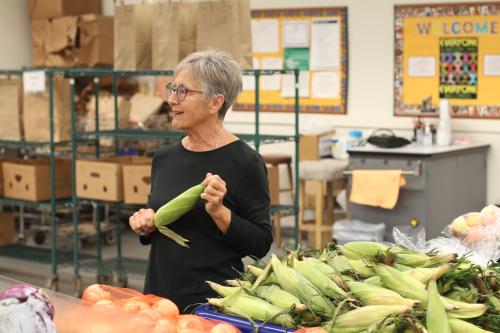 Volunteers like Sue help IOCP with tasks such as personal shopping, checking in neighbors, and food delivery
This type of connection and emphasis on community is what drew Sue to volunteer with Interfaith Outreach & Community Partners. "I love it for so many reasons. The staff are just so thoughtful in everything we do—it's all about 'How can I make the experience better for more people while treating everyone as an individual.'"
One of the people who makes the experience as personal as possible at Interfaith Outreach is Debby, who Sue calls "The best ambassador for Interfaith Outreach." Debby checks shoppers in at the Food Shelf, bringing her amazing energy to each visitor. "She knows every name that comes in. She knows if they're vegan and can let them know what options we have today."
While the staff and volunteers at IOCP make these important connections to all those who visit their food shelf, they are also in tune with the needs of the community and those that might not be able to physically make it to their space during operating hours.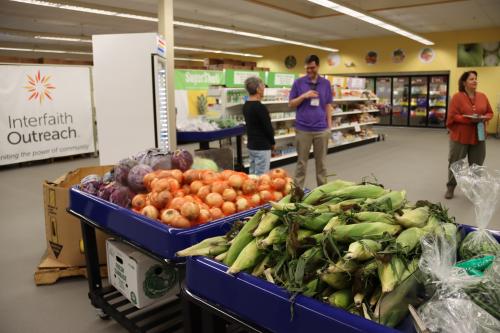 Second Harvest Heartland provides fresh produce to food shelves like IOCP
On any given morning, the front entryway of IOCP Food Shelf is lined with brown grocery bags filled with cooking materials, spices and fresh produce, ready to be delivered to neighbors in the Plymouth area. Not everyone can physically make it to the food shelf and this transportation gap is something that Andy, ICOP's Food Shelf Manager, is hoping to fill.
"We have people where a grocery store setting does not work for them for mental health or anxiety reasons. We also have people who break their leg or are unable to drive for a couple of weeks. We have an online order form where people can pick items from each of our sections. Volunteers will come in and do the personal shopping for these neighbors—they'll have the order form and try to match what we have that day to their preferences."
One of Sue's many roles is acting as one of these delivery drivers. "I get to go to people's homes, usually a little before dinner time. It's amazing how much people appreciate us showing up at their door, especially at mealtime, some of them with kids running around and nothing for dinner until we get there. It's so rewarding and very appreciated by the clients."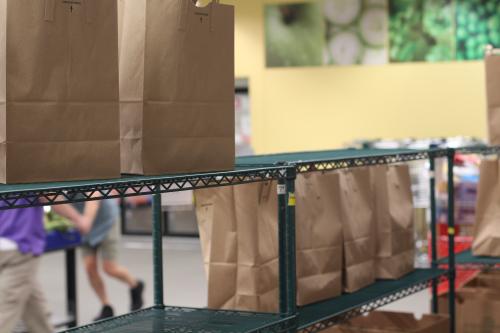 IOCP's food delivery services fills a gap for neighbors that are unable to make it to their physical food shelf location
Andy and everyone involved with IOCP is always thinking about filling those hidden needs in the Plymouth community—IOCP noticed an opportunity to partner with local elementary and middle schools to provide snacks to students, lifting a burden on teachers who are often expected to provide mid-day snacks out of their own pockets.
"There are kids who haven't eaten breakfast before they've arrived to school, or unable to do the free breakfast option for whatever reason," says Andy. "Right now, we are working with a middle school providing 150 pounds of various snack packs, granola bars, things like that. I think there's a lot of opportunity to make sure these young minds are ready to learn. As a kid, I didn't like sitting in class at the best of times, so if you're sitting there with a rumbling stomach, it's even harder."
Being partnered with schools is seen as another layer to getting IOCP's services out into the community. "Many neighbors might not be comfortable coming into IOCP or giving us a call," says Andy. "But they are comfortable talking to their child's social worker who can say, 'hey, this place can help.'"
Interfaith Outreach & Community Partners' understanding of their local community and willingness to adapt to the needs of their neighbors demonstrates their dedication to the fight against hunger. Second Harvest Heartland is proud to partner with Interfaith Outreach & Community Partners as they continue to support—and share zucchini recipes—with their extended community.