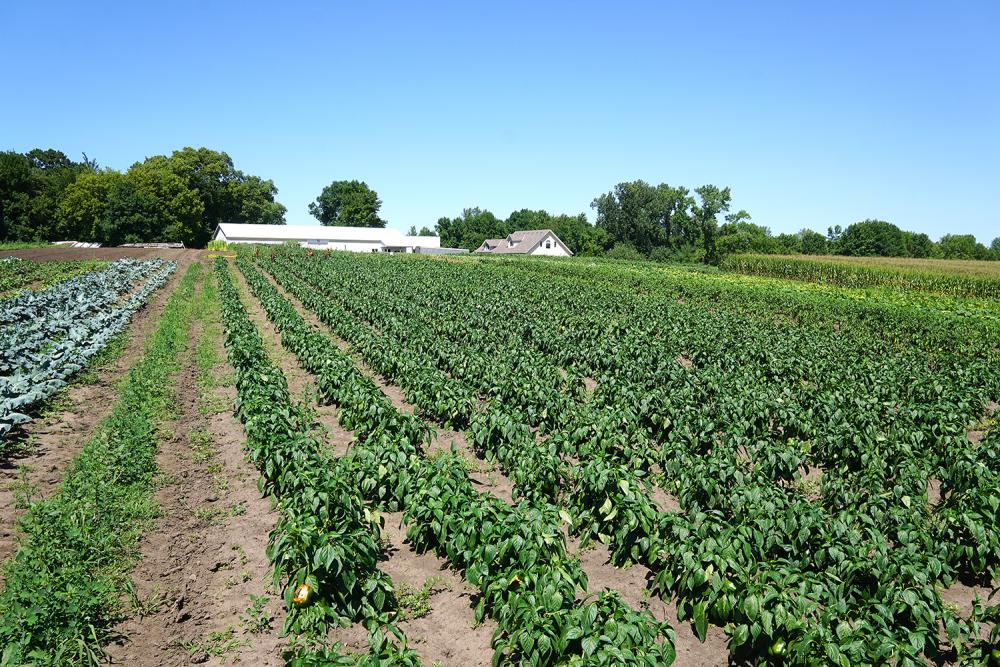 FROM FARM TO FOOD BANK: Q&A WITH THE GOOD ACRE
In 2021, Second Harvest Heartland began partnering with The Good Acre, a nonprofit food hub, to support Minnesota's diverse agricultural community and supply hungry neighbors with fresh, locally grown produce.
As a large produce customer, we are positioned to purchase from and financially support BIPOC-owned farms that have been hard hit by the pandemic, on top of centuries of discrimination. After launching this partnership last summer, 25 participating BIPOC growers have sold more than 197,000 pounds of locally grown fresh produce—including 10 culturally connected varieties—to Second Harvest Heartland. For the 2022 season, the number of BIPOC growers has increased to over 50. This produce is then distributed at no cost to our robust network of food shelf and meal program partners.
We recently sat down with a few of these farmers and The Good Acre's executive director Theresa McCormick, formerly of Second Harvest Heartland, to discuss how we're addressing the hunger divide through this important partnership. Jesus Carillo owns a 61-acre farm with his brother Aldo in Foley, Minnesota. Pheng Yang is another grower in Montgomery, Minnesota. In the past few years, both were connected with The Good Acre and have since sold their produce to Second Harvest Heartland.
Hi! Please tell us how you got started with farming.
Jesus: My dad was a farmer when he was in Mexico. When we first got to Minnesota, we started looking for some land and purchased it in 2015. It took a while to learn about the process of planting our own seed, but we progressed slowly in the right direction.
Pheng: My parents farmed ever since they were born and I … helped them and then got into it.
How did you get involved with The Good Acre?
Jesus: Through the University of Minnesota I got connected with [someone] who we lease part of a greenhouse from … and she talked to us about it … Pretty much we went to talk to The Good Acre, person to person. And that's how we got to know each other and now we send our produce to them through that person from the University.
And now working with the Good Acre, I mean, we really have had a good experience with them. They're great to work with and we have a contract and then I will deliver the days that it says on the contract ... And then if something happens or anything, then I would call them … I like the fact that they kind of work with us together … I have a really good interaction with them.
Pheng: Going through the pandemic, there wasn't much to sell. So, we got help from the LEAFF program where we can send [any produce] to them and they give us money. And then after that we still had a lot of vegetables, so I asked them if I'm able to get into their wholesale program where I could sell stuff to them, and that's how we got together.
Do you know what crops you've sold to Second Harvest Heartland?
Pheng: Squash, zucchini, cucumbers, tomatoes and green beans.
Jesus: We've been growing tomatillos, tomatoes, peppers, onions, radishes and winter squash.
How does it feel knowing that some of your food is going to feed people who are hungry?
Pheng: It's a good thing 'cause it's good for me and it goes to the community.
Jesus: I've been working so hard to get to work on the farm … Knowing that we're helping people out, it's joyful. Knowing that our hard work is paying off by helping them.
Prior to joining The Good Acre earlier this year, Theresa spent nearly a decade working at Second Harvest Heartland, most recently as director of programs and healthcare partnerships leading our country-leading child hunger and SNAP outreach efforts.
Theresa, how does our work together advance equity on both sides of the food spectrum—growers and eaters?
Theresa: As a food hub, being able to aggregate produce from many small emerging farmers for Second Harvest Heartland's agency partners is a critical link. Through our partnership, not only are farmers being paid a fair price for their harvest, but that harvest is directly fighting hunger in diverse communities—this is what real systems change looks like.
What are your thoughts about the importance of this exciting and growing partnership?
Theresa: Our partnership provides a critical link that makes it possible for more farmers of color to be a part of closing the hunger divide in Minnesota. It's a win-win for community health and wellbeing.
To keep up with The Good Acre, follow them on Facebook, Instagram or Twitter. To learn more, visit thegoodacre.org or 2harvest.org/hungerdivide.