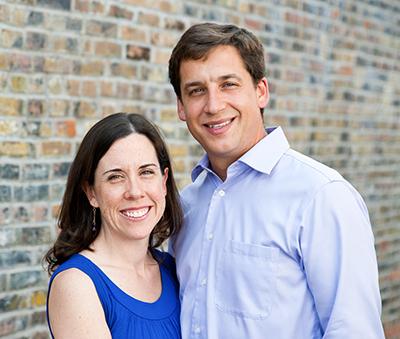 The Fanucci Family: Channeling Grief Into Some Outrageous Good
When Laura and Franco Fanucci turned their calendar to February this year, the couple anticipated the days that awaited them during a particularly difficult month for their family. February 27 would mark the five-year anniversary of the birth of their twin daughters, Maggie and Abby. Unfortunately, the same month would also bring about the five-year anniversary of the girls' deaths caused by twin-to-twin transfusion syndrome. Maggie lived for one day and Abby lived for two.
As long-time supporters of Second Harvest Heartland, Laura and Franco wanted to channel their grief into doing some "outrageous good" for their community. With hopes of making a difference in the lives of the 1 in 6 Minnesota kids facing hunger today, they opted to host a virtual drive through Second Harvest Heartland's website. When it came time to set their fundraising goal, they decided to go big: they wanted to raise $20,000. Little did they know, their family, friends, and network of supporters were ready to step up to the challenge—and provide the Fanucci family a great deal of support in the process. We sat down with Laura to hear more about her story.
What led you to create a fund drive to honor Maggie and Abby's birthday?
As we approached the five-year mark since our daughters were born and died, we knew the anniversary would be a hard one. So we wanted to do something positive, to channel our energy into good and to invite others to join us in doing the same. People are hungry for hope and community right now—while so many are experiencing real hunger and food insecurity as well. Creating a fundraiser that could help feed both felt like a natural connection.
We have been blown away to see the response. I thought it was a crazy leap to set $20,000 as a goal, but the world felt so dark over the past year that I figured why not try to do some outrageous good? Now we have nearly doubled our original goal. I'm humbled and awed by the generosity of loved ones and strangers alike. This experience taught me to reach for more than you think possible—and let other people surprise you.
Is this generosity something you have practiced in previous years to honor your twin daughters? What other causes or organizations have you been drawn to, and why?
We've often organized a fundraiser in honor of our daughters' birthday. Bringing hope out of our loss has felt like a bright light in the darkness of grief. We've chosen causes that connected with our family, like the Flint Water Fund (from where I grew up in Michigan, which would have been a big part of our daughters' lives, too). We've also supported friends doing good work elsewhere in the world, like my friend who worked with indigenous mothers and babies in Costa Rica.
One year we created a fundraiser for Feed My Starving Children, since our church partners with them. Thinking about hunger globally got me thinking about it locally as well—and every parent knows how important food is for kids. That's what led us to Second Harvest Heartland.
What motivated you to support Second Harvest Heartland or other hunger-fighting organizations in the past?
Hunger is such a huge issue for every community, and we've been impressed by Second Harvest Heartland's leadership and the good work they do for so many in our region. Particularly as a parent, I feel drawn to work on issues of poverty and food scarcity. Before we had kids, my husband and I used to volunteer regularly at our local food shelf where we saw how important it was for them to have reliable sources of food and funding.
You're an accomplished writer, having published books on parenting and on your and Franco's journey through miscarriage. Is there something to be said about hosting a public fundraiser honoring your daughters that is a part of the grieving process?
I wrote publicly about my pregnancy with our twins, so writing became an outlet for my grief after their deaths, too. I was always amazed at how generously readers received my words. I wondered if something more tangible could come out of our connections. When you experience a deep loss, there are so many natural reactions: you want to fill the void, or find some meaning, or ensure that your loved one will not be forgotten, or simply figure out how to get out of bed in the morning. As we have wrestled with grief for the past five years, finding ways to do something positive—and even public, like this fundraiser—in honor of our love for our daughters has helped us in so many ways.
What words of encouragement do you have for those who want to address local hunger but aren't sure how to get started?
I loved how easy Second Harvest Heartland made it to launch a virtual fundraiser. Being able to create a fundraising page quickly and beautifully makes it even easier to share the link far and wide so that loved ones (and strangers) can share their support. It's so inspiring to watch others join together in doing good work. You can see how every single gift, big or small, makes an impact.
My favorite part of the fundraiser was how our older kids got excited to watch the total grow. Seeing other people's support and generosity made a huge impression on them. One night our oldest brought me a $20 bill and said, "This is for Maggie and Abby's fundraiser. Other people need it more than me." Knowing how kids dream about spending any money they receive as a gift made me realize that this fundraiser was changing all of our hearts as a family.
To date, Laura and Franco's fundraiser has raised more than $38,000, which Second Harvest Heartland can use to provide more than 115,000 meals. We are grateful for the Fanucci family's support and the generosity of their community. To get started with your own virtual drive, visit 2harvest.org/drive.