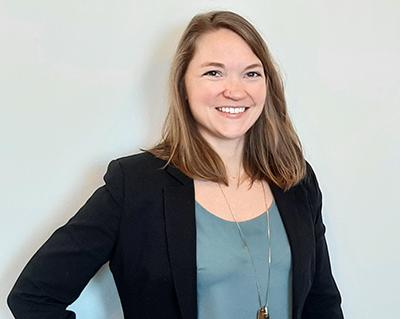 Expert Spotlight: Rebecca Mino, Manager of Applied Research and Policy 
When people think about the hunger-relief efforts in their community, data and research may not be the first thing that comes to mind. At Second Harvest Heartland, though, we've long relied upon data to guide our work, from tracking, sourcing and distributing food smartly to—increasingly—asking people how we best can provide support. We're stepping up this work, hoping to elevate the role of data and research in everything we do across the organization, with partners, and throughout the hunger-relief system.
As we work to proactively dig deeper into this work, we'll ask more and better questions to get at the how of our mission to end hunger together. Through data-and research-driven strategies, we will more appropriately and equitably connect food with those who need it, when they need it, and examine the gaps and disparities that exist. We are committed to understanding more about and hearing more from the one in nine Minnesotans facing hunger and the agencies that serve them.
With all that work in front of us, meet Rebecca Mino, a research powerhouse who holds the newly created role of Manager of Applied Research and Policy at Second Harvest Heartland. It's the role she was born to play, where her research and evaluation chops meet a passion for hunger relief, wrapped in the belief that evaluating our progress is the way to understand how to make progress and that people experiencing hunger need to be at the center of everything we do. Rebecca has served in several roles and initiatives for the past six years at Second Harvest Heartland, from our Child Hunger team to leading advocacy efforts and writing Breakfast After the Bell legislation, and will draw upon all these experiences as she leads the development of a holistic research strategy for the organization.
Your new role couldn't come at a more important time. One year into the COVID-19 pandemic, Second Harvest Heartland is delivering 23% more food to our food shelf partners throughout our region. How has COVID-19 changed how we approach data and research?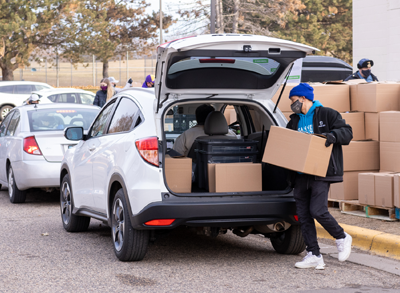 Yes, our food shelf partners are reporting us a 58% increase in people accessing food assistance compared to a year ago. In normal circumstances, pre-COVID, we had somewhat predictable patterns of increases and decreases of greater need and could ramp up our services accordingly. With COVID, our demand planning has shifted to the best estimates we can get on unemployment levels and poverty levels, and how we can flex our services to deliver more food in more ways where it's needed most.
That's meant that in addition to supplying our food shelf partners with goods to literally stock their shelves, we've also introduced everything from curbside-to-trunk emergency grocery pop-ups throughout the region, to-door meal and food box delivery to those unable to access distribution sites, innovative school meal programs to feed kids wherever they're learning, and culturally relevant meals through Minnesota Central Kitchen. As we distribute more food than ever before, in more ways than ever before, the data picture becomes more complex. We need to work harder than ever to understand who is accessing the hunger relief system and develop an even deeper understanding of their situations and needs.
What are some of the ways we're shifting from letting data guide us, to being more proactive?
We're at an exciting point in terms of how we can strategically use data and research to help solve hunger. Data has always been a key part of Second Harvest Heartland – after all, we didn't grow to be one of the largest, most effective food banks in the region without a firm grasp on the amount of food coming in and going out, and how it's getting from point A to B to C! We're building upon this solid foundation of "what foods" and "how much" and "where's it from, and where's it going" to proactively ask and understand: "Who is accessing hunger relief, and why? What can we do better?" To do so, we need more accurate, timelier, and richer data. It's about the data and stories, and the uncomfortable realities that data will uncover. With that information, we can acknowledge the broader issues and work toward upstream solutions.
What are some of those uncomfortable realities research is uncovering?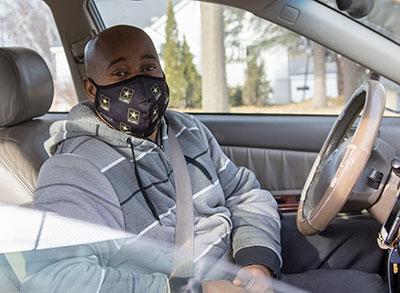 Everything we're doing is with an eye on equity, and we are driven to address the uncomfortable reality of the hunger divide we know exists: Black, Latino, Asian and Indigenous families in Minnesota are at least twice as likely as white families to live with hunger, and evidence suggests this divide will continue to grow. That's simply unacceptable. We have a responsibility to address that disparity, and while we're putting immediate programs in place with culturally relevant foods and prepared meals, prioritizing new partnerships with partners from communities of color and more, we know that's just a start. We need to better understand the needs and desires of all our clients, determine how well our programs work, and offer our close partners research and evaluation consultation to help them do the same. We need to gather more data and information on this hunger divide, track the progress we're making to close the divide, and constantly be improving upon our work. And at every step, we need to remember to ask and listen to those who are experiencing hunger to inform our actions.
How can people learn more about our research and support it?
One place to start is learning more about the hunger facts we currently have about our region and impact. And, of course, donations are always appreciated to help us implement data-driven programs in our region.