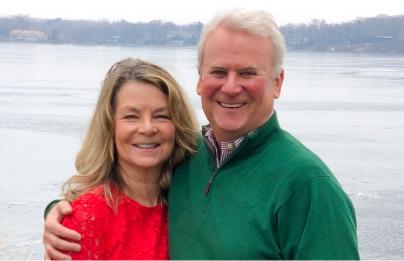 Doubling Down: Giving Today and Well into the Future
It was more than a decade ago when Ward Armstrong and his colleagues forged a workplace partnership with Second Harvest Heartland through financial contributions and quarterly volunteer outings for their families.
"As a new company, we wanted to support an organization as an enterprise, to contribute to something bigger than ourselves," Ward explained. "Second Harvest Heartland and its work to end local hunger was something everyone could get behind."
Workplace giving and volunteering turned into team outings to the annual Dish gala for many years. Upon his retirement, Ward and his wife Kathy evolved their relationship to include individual giving and capital campaign support of the new hunger-fighting headquarters in Brooklyn Park, Minnesota.
"Touring the new facility reinforced the dedication we knew fueled the work, as well as the operational expertise required to rescue and distribute so much food.
What's also evolved over the years is Kathy and Ward's commitment to the Twin Cities, a community that has been so good to them throughout their lives, their careers, and the raising of their children.
"We expect to be here for the rest of our lives. And while we are proud to call Minnesota home, we fully appreciate that not everyone is able to experience it in the same way we are. Local poverty and socioeconomic inequity are growing problems that require all of us to do what we can to help those in need."
Motivated in part by the deep, widespread need created and revealed since March 2020, Kathy and Ward have doubled down in their giving, both in terms of increasing their annual gifts and in designating several community-serving organizations in their estate plan.
"After determining with our financial advisor what is needed to live, the balance of our assets is our legacy. For us, we allocate our legacy to our kids, to our grandchildren, and to helping others. It's math. Then, it becomes a decision of who to help. Second Harvest Heartland is one of five causes we care deeply about, which is why we've included the organization in our estate."
Kathy and Ward prefer, of course, to give while they live, which they do so effectively and efficiently through Donor Advised Funds and, once they are of eligible age, Qualified Charitable Distributions from their IRA, supporting Second Harvest Heartland through both mechanisms.
"We both come from modest upbringings, and we are so grateful for where we are now," explained Kathy. "We understand how hard it can be for so many. Having a roof over your head and a meal to eat are essential."
Recommitting to the organizations you support, like Kathy and Ward have, isn't complicated, it just takes some time and some planning. More than anything, though, it's about the organization and its work.
"Get to know the people," they advise. "Have them help you think through how to best donate and support their work. Take a tour to fully appreciate the need, the operations, the team. What comes next is just the math."
To learn more about including Second Harvest Heartland in your estate plans.