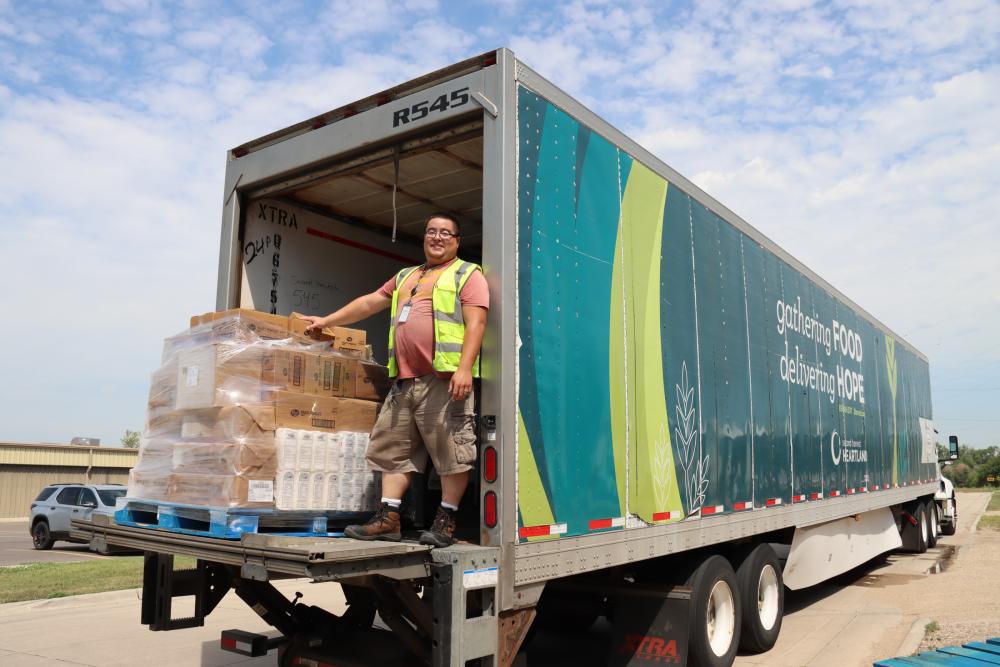 Delivery Day at Pipestone County Food Shelf
Thousands of visitors make the trip to Cannomok'e-Pipestone National Monument each year to be amongst the untouched prairie, and to visit the brownish-red pipestone quarries that are sacred to many tribal nations of North America. Less than a mile from the monument, volunteers at the Pipestone County Food Shelf are moving flooring materials, stocking shelves and preparing to welcome shoppers on a busy Thursday afternoon while excitedly awaiting the grand opening of their brand-new food shelf.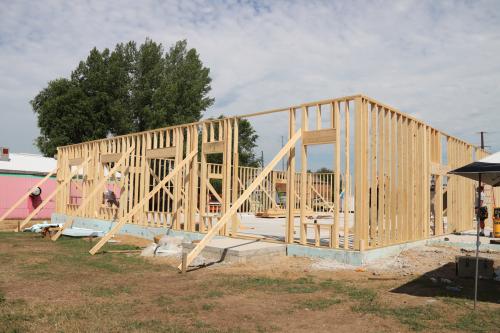 The new building is expected to be complete by the fall
The current space is 1,100 square feet and shares a warehouse with a local flooring business. To receive their Second Harvest Heartland deliveries, food shelf volunteers must rearrange some of the flooring company's materials to make space for food pallets. While this is a testament to the generosity of the flooring company as well as demonstrates the strength of the Pipestone community, volunteers are looking forward to a space that is triple the size of their existing space and will include much-needed amenities such as an indoor waiting area for shoppers and a warehouse for food storage. Also, the space will be shared with the local senior center, Lutheran Social Services meals on wheels, and provide community dining—all services that will greatly assist the Pipestone County community. The extra space is needed to meet the recent spike in community need: Pipestone has seen their visitors nearly double in the last six months, and nearly triple since before the pandemic.
"Room! And more storage," exclaims Alan, a volunteer shelf-stocker and jack-of-all-trades when asked about what he is most excited about regarding the new construction. The new space couldn't come at a better time, as Pipestone Food Shelf has seen a dramatic increase from 25-30 families a week to 75 families a week. "I'm just glad we can fill a need in the community," says Alan.
Recognizing that need is Roger, who has spent the last 11 years with the Pipestone Food Shelf as Chairman of the Board and President. He has lead the food shelf through the past few years of rapid growth, and alongside Senior Center board members Steve and Joann, have developed the partnership for the new shared building. The land for the new senior center and food shelf was graciously donated, and over 625,000 dollars was generated through grants, money from the city and county, United Way funds and individual donations from people in the community.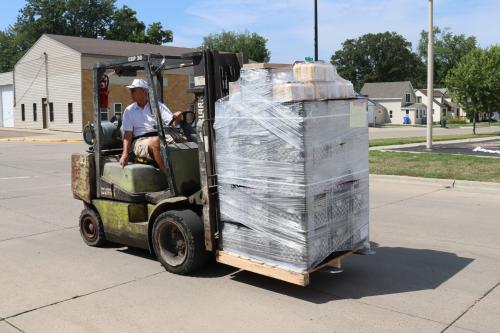 Volunteer, Marv, delivers pallets to both front and back doors while volunteers inside quickly unload and stock shelves
"We would not be here without Roger," reflected Paula, a Pipestone Food Bank Volunteer. Jill, the ACE Program Manager for who connects volunteers in Southwest Minnesota to organizations such as the Pipestone Food Shelf agrees: "Roger is amazing. He makes everyone feel loved."
It's not just Roger that makes everyone feel welcome. Jessy, a weekly volunteer who is bilingual in English and Spanish, checks shoppers in. She builds community and gets to know regular visitors through these intake conversations. Jessy's presence has increased awareness of the food shelf for Spanish-speaking neighbors in the area. She is excited for the new Senior Center/Food Shelf space: "It is going to make a big difference."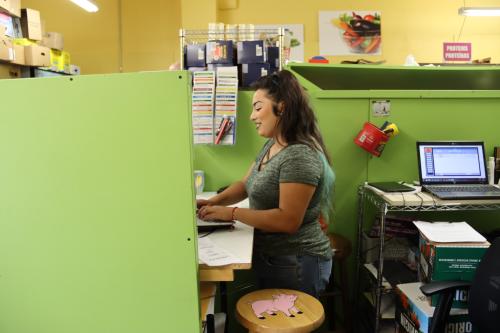 Jessy checks in shoppers
Delivery day at Pipestone Food Shelf is a frenzy of activity and available hands are quickly put to work. As soon as the Second Harvest Heartland truck arrives around 11 a.m., a team of about ten experienced and motivated volunteers work to unpack and stock thousands of pounds of food before the food shelf's 2 p.m. opening.
A double glass door refrigerator is quickly filled up with half gallons of milk. Boxes of cherries, local sweet corn, cabbage, and other produce are displayed on shelves and in refrigerators. As a SuperShelf food shelf, Pipestone prioritizes displaying fresh, abundant fruits and vegetables in a set up that feels like a local grocery store or market.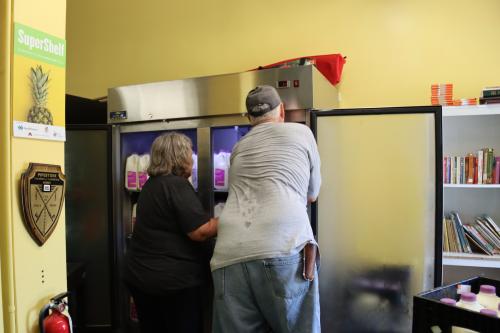 Volunteers stock the milk fridge
Sometimes, shoppers line up outside the food shelf as early as 10:30 a.m. and wait for the food shelf to open. Karla, a regular volunteer, says that some even ask if there is anything they can help with while they wait. While this shows that the Pipestone Food Shelf truly is a community effort, Karla still tries to assure folks that there is enough food for everyone, and they will stay open until everyone has had a chance to shop. The early lines still persist in all-weather, which is one reason Karla looks forward to the new building and having an indoor waiting area for anyone arriving before Jessy starts checking visitors in and the food shelf officially opens.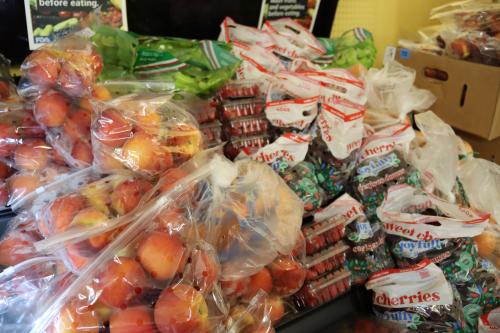 Fresh produce ready for pickup
Pipestone County Food Shelf is a true community effort. From loading in the Second Harvest Heartland delivery and connecting with neighbors, to funding the new facility, the community actively supports and takes pride in their local food shelf. And with the vision of Roger, as well as the efforts of Jessy and countless other volunteers, the new Pipestone Food Shelf/Senior Center will be a space to gather, assist, and serve the people of Pipestone for years to come.