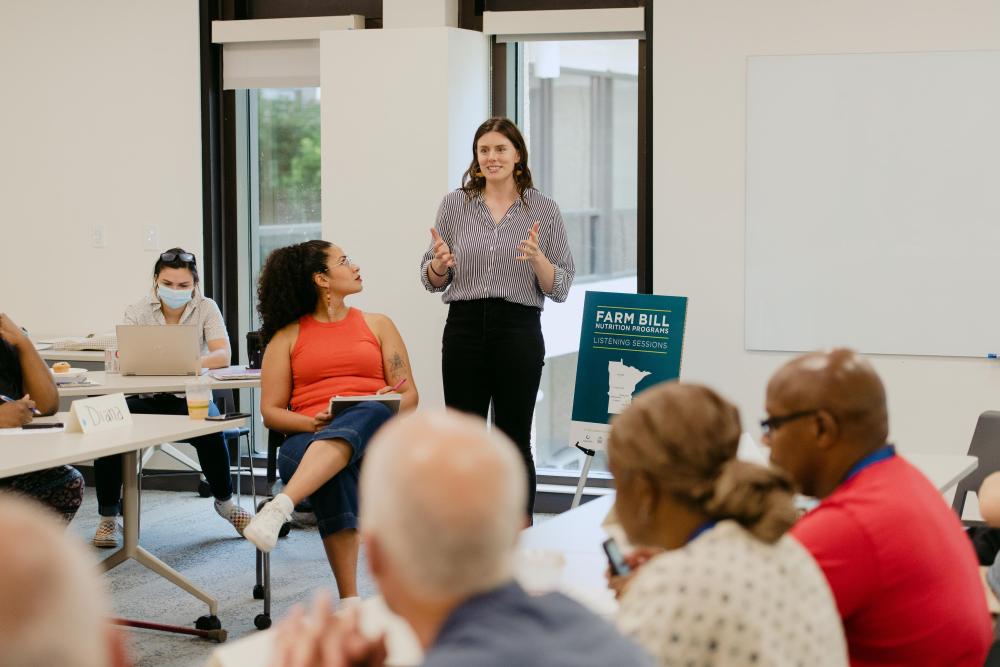 December Reflections: Advocacy and Public Policy
Q&A with Rachel Sosnowchik, Public Affairs Specialist
While we're far from out of the woods in responding to and recovering from the impacts of the COVID-19 pandemic, we thought it important to reflect on a remarkable year and some of its bright spots. Keep an eye out this month for the reflections from numerous Second Harvest Heartland team members.
What's something positive that happened on the public policy front this year? Maybe something you were pleasantly surprised by?
There was this rare and hopeful period during the first two months of COVID where legislators, at the state and federal level, meaningfully responded to the urgency of the moment by coming together to pass comprehensive aid packages that made a material improvement in millions of people's lives.
This huge investment during a time of great need and uncertainty expanded and extended unemployment benefits, delivered $1,200 stimulus payments, and ensured greater access to universal meals. It worked to keep poverty in check through the summer despite vast unemployment.
That said, we've seen this progress undone in recent months as benefits and aid programs have expired with no extensions or replacements. I was surprised and excited by the quick action we saw during the early stages of the pandemic, and I remain hopeful that our legislators will again rise to meet the moment by passing additional COVID relief packages.
What happened this year that you never would have dreamed about if not for COVID?
The bipartisan response and investment mentioned above would have felt totally impossible a year ago. Some of the specific policies related to our work that I've been most excited about include:
Universal meals becoming a reality in almost every school district across the country. Of course, there are still barriers for kids to access these meals, but just having food available to all students for free, no questions asked, feels like a major win, and something we must work to maintain and improve upon.
Emergency SNAP (E-SNAP), a program that bumped every SNAP participant up to the maximum benefit amount, has provided hundreds of thousands of Minnesotans with nearly $200 million in nutrition benefits since this spring. While more still needs to be done to help those lowest-income Minnesotans already receiving the maximum benefit amount, this program made a significant difference for so many Minnesota families.
Finally, Pandemic EBT (P-EBT) allowed families with kids enrolled in free/reduced school meals, who now had more difficulty accessing these meals at school, to receive the value of those meals on a debit card to instead spend on groceries each month.
Were there new policies, programs or coalitions that came into existence this year that you hope will continue?
Absolutely! Universal school meals is the gold standard for child hunger advocates, and the child hunger team at Second Harvest Heartland has been working for years to provide technical assistance and resources to our school partners to make universal meals a reality through already-existing programs. If we could enact policies at the state or federal level that would make it even easier for schools to continue providing meals for free to all kids, that would be a major win for Minnesota's kids, families and communities.
Similarly, there were many technological and logistical barriers to rolling out P-EBT benefits to eligible families. Now that these challenges have been mostly overcome, we should capitalize on that investment in time and resources to keep this program going in the long term as Summer EBT, which provides families with the dollar value of school meals during the summer months when many kids no longer have consistent access to food at school.
What's a top learning form this year that you want our advocacy efforts to carry into the future?
I hope that legislators respond to evidence showing the overwhelmingly positive benefits of these policies for those they've intended to serve. So many are still struggling, and we need to do more, but it's also difficult to think about how hard things would be if we hadn't expanded access to vital nutrition programs this spring and summer. We're lucky to benefit from the work of several national partners, including Share Our Strength, Feeding America, and the Food Research and Action Committee, and I know they're all working hard to document how COVID-era nutrition policies have staved off hunger for millions of Americans—proving what anti-hunger advocates have said for years about the effectiveness of these programs.
State agency employees and school nutrition workers have dedicated countless hours and resources into completely rethinking how they administer these nutrition programs, so at this point there's also an argument to be made about getting the most out of this investment. Keeping all Minnesotans healthy and fed has numerous health, economic, and educational benefits, so I hope we can continue to make the case that not only is implementing policies to end hunger the morally right choice, but it's the fiscally smart decision too.
Learn more about the public policies and programs we're most focused on, and join our list of proud, hunger-fighting advocates to stay closest to this work. .