The Crisis that Changed Us
Unrest swept across the Twin Cities in the days following the killing of George Floyd, leaving the communities hardest hit by COVID with damaged or shuttered grocery stores. Second Harvest Heartland leadership was there from the beginning, calling our partners in affected neighborhoods to ask how we could help.
Water, milk, diapers, formula, hygiene products and cleaning supplies were in short supply and the need was dire. We know how to source and deliver food, but some of these essential items were new territory, so our next round of calls was to our retail and corporate partners. Target Corporation immediately offered water, toilet paper and hygiene products, while Blue Cross Blue Shield provided funding for baby formula. Next, we quickly turned our attention to mass food distributions coordinated with the cities of Minneapolis and St. Paul. Emergency grocery pop-ups were organized at Holy Trinity Church, Powderhorn Park and Hiawatha Leadership Academy.
By Monday morning of June 1, amid sustained unrest, we had distributed a pallet of formula, nine truckloads of emergency food boxes and fresh produce, newly sourced essentials and 1,600 hot meals from our Minnesota Central Kitchen initiative partners.
Our team of 19 drivers made those deliveries possible. Driver Juan Morales joined Second Harvest Heartland just days before the pandemic took hold. Juan's daily routes take him to Willmar, Ivanhoe, Mankato and spots in-between. Spots, following the uprisings, like the Kmart parking lot on Lake Street. "In the days following the unrest, you'd arrive at an address, but it didn't seem right. You'd call the customer from a random parking lot, and there they'd show up." Sometimes it was canopies or tents, alleyways, parks and parking lots. Whatever the inventory, wherever the drop location, Juan and the team delivered.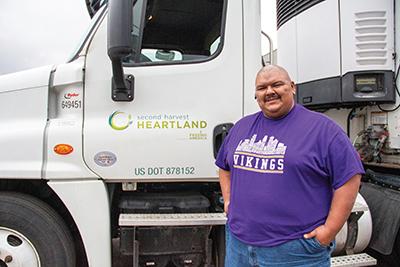 We now work to consistently stock essentials like diapers, formula and personal hygiene products. And we've learned how to listen to a community in crisis, source what's needed and dispatch it safely to where it's needed most. We hope we're overprepared. What we know for sure is that no level of change or hardship should leave us hungry in the heartland, where there's plenty of food to go around.