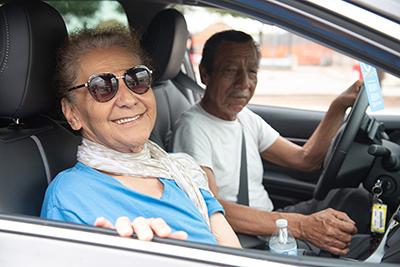 Business Not as Usual: Food Production and Distribution in a Pandemic
With 37 food distribution locations throughout the state and a network of more than 80 nonprofit partners, Loaves & Fishes considers itself the largest free restaurant in Minnesota.
In continuous operation since 1982, the organization serves fresh meals to hungry guests, bringing volunteers and communities together to combat food insecurity, poverty and isolation.
So what happens when an organization built on bringing people together meets a pandemic that demands keeping people apart?
"We knew that we were going to have to do our work differently," says Executive Director Cathy Maes, who worried about not being able to feed as many people or maintain quality in the wake of COVID-19. "Thierry gave me a call and said, 'We think we might have a solution.'"
She's referring to Second Harvest Heartland's Thierry Ibri. The solution? Minnesota Central Kitchen (MCK). With the meals from MCK, Maes says, Loaves & Fishes has increased their distribution from about 3,500 meals per day in typical times to more than 10,000 per day during the pandemic response.
"We have shifted very quickly. I'm very proud of our organization for being able to do this," she says, crediting the organization's adaptability to "a positive attitude, strategy, a little bit of grit, and a whole lot of heart for our guests."
Hunger Relief, From Scratch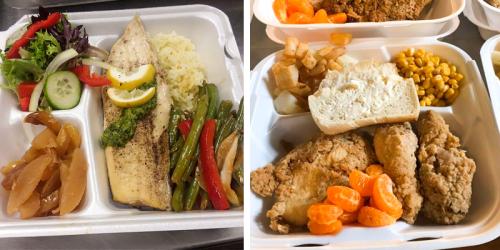 Through Minnesota Central Kitchen, Breaking Bread Cafe and Catering provides 1,000 meals per day to community members in North Minneapolis.
"Minnesota Central Kitchen came by and gave us the opportunity to stay functioning," says Executive Chef Brett Weber, who was able to rehire seven members of his kitchen staff who had been laid off in the wake of COVID-19.
Scaling up production and using donated food has also provided some learning opportunities.
"I've cooked a lot and led a lot of different kitchens, but I've never been in charge of having to prepare 800 pounds of food on a daily basis," says Weber. Otherwise, it's mission-as-usual for his kitchen, an extension of parent organization Appetite for Change.
"We use food as a tool for health, wealth, and social change," he says, citing the organization's mission statement. "What we're doing matters. And I think everyone feels that when they come to work here every day."
Lessons Learned in the Kitchen Lead to New Ideas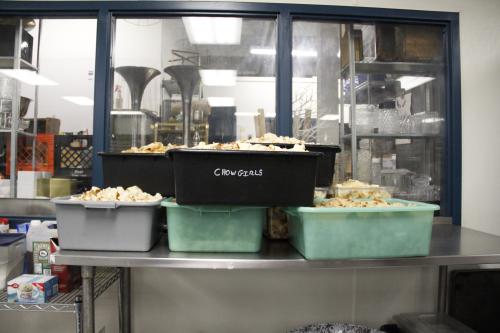 Now, only a month into Minnesota Central Kitchen, founding partner Chowgirls Catering is looking ahead, inspired by what they've already been able to accomplish.
"The ingenuity in the kitchen to be able to take in any random ingredients and turn them into a healthy, appealing, scratch-made meal," says Chowgirls President Maari Cedar James. "It's a really good analogy for taking it as it comes and seeing what you can make of it."
Looking forward, Chowgirls is exploring options to connect with more ultra-local food producers or build a buy-one-give-one meal model as life returns to semi-normalcy.
"Being open to possibilities being different than we think they might be has been incredibly humbling and also allowed us to come this far and start looking at incorporating this into our business longer-term," she says. "If we can shift and be dynamic and responsive to the real needs of our communities, we can stay relevant."
Staying relevant, for all involved in Minnesota Central Kitchen, means continuing to find ways to feed hungry Minnesotans. For Loaves & Fishes, the new to-go model has exposed food insecurity previously hidden by cultural norms.
"Coming in and sitting down at tables with people could be a big hurdle for someone," says Cathy Maes, who says more anonymity has led to more people reaching out for help. Beyond the higher numbers, the to-go model has allowed her teams to share even more food than just a single meal per visit, increasing their impact even further for those in need.
"This is the time to give," she says. "And that's exactly what we're doing."
This story is part two of a series covering Minnesota Central Kitchen. Read the first of the series here: Coming Together to Feed More Minnesotans: The Story Behind Minnesota Central Kitchen.