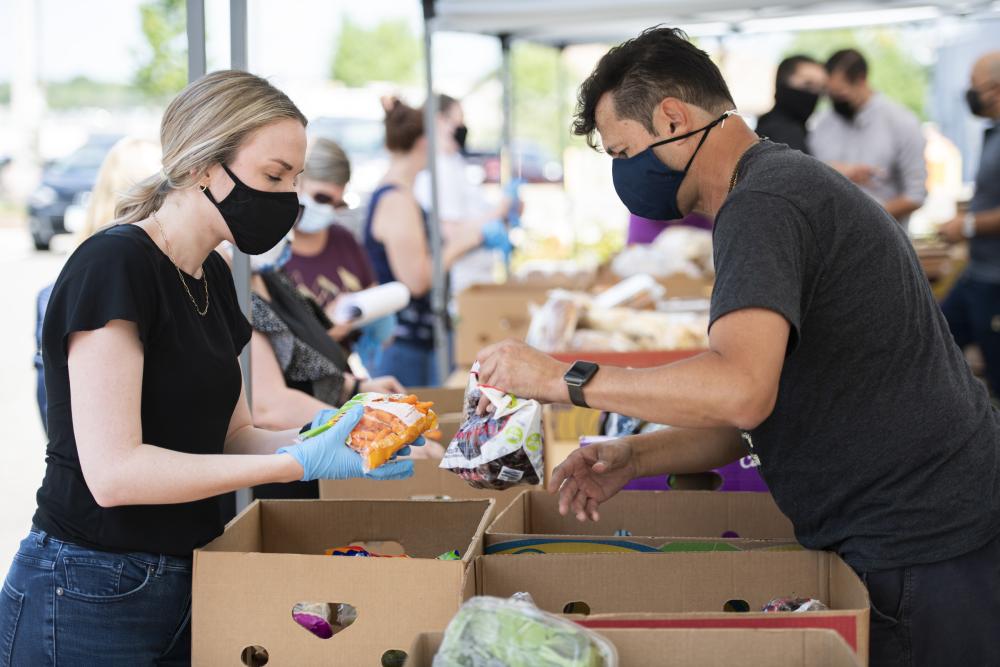 Addressing the Racial Hunger Divide
On the last sunny Monday in August, staff and volunteers at CLUES St. Paul energetically sort a large delivery of fresh produce, dairy and bread. The food, delivered by Second Harvest Heartland's Retail Food Rescue program, is quickly packed into boxes for families who have started queuing, waiting for the weekly food distribution event to begin.
Janelle Calvo, CLUES' food access coordinator, saw a rise in the number of families looking for food assistance at the beginning of the pandemic. Job losses and economic uncertainty fueled by COVID-19 have been felt especially strongly among households of color in Minnesota. And among the more than half a million Minnesotans facing hunger right now, Black, Latino, Asian and Indigenous people are more than twice as likely as White people to experience hunger—a racial disparity we call the hunger divide.
While anyone can experience food insecurity at any time, the circumstances that lead to it can be complicated. Lack of living wages, affordable housing and access to health care can lead families to forgo meals. Understanding the underlying factors of inequity brings us one step closer to addressing stark racial disparities in hunger and ending it together.
Second Harvest Heartland and agency partners, like CLUES, are actively working to confront and address the hunger divide and root causes of food insecurity. For Janelle and her colleagues, the process starts with a safe, welcoming environment and access to foods that families already know and love.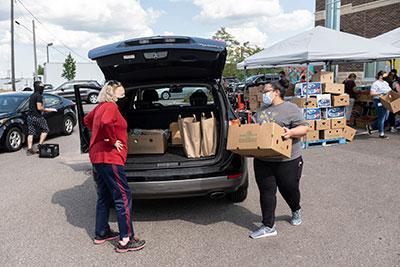 "The majority (of people) we serve are BIPOC, especially Latino," Janelle explains. "We try to incorporate culturally specific, culturally relevant foods—maseca and tortillas, to name a few—because it's hard to find it in food shelves, and so that people have culturally relevant foods at home."
Choice is crucial because it gives people an identity, Janelle says, and allows them to select the foods they like and know how to prepare. Providing a greater variety of foods is an important way to help people feel welcome.
"It's a comfortable atmosphere," says Victoria, who has been to CLUES for food distribution events several times this past summer. "Some people speak Spanish, some don't, but there's food and everybody is welcome here!"
As one of the nation's largest hunger-relief organizations, Second Harvest Heartland is leveraging our buying power to support communities of color. We're providing more culturally connected foods to trusted partners like CLUES, who deliver food directly to the communities we serve. We're also partnering with The Good Acre food hub in the Twin Cities to connect with farmers of color across the state to buy fresh, nutritious produce—like organic tomatoes and kale grown at Dawn2Dusk Farm by Moses Momanyi and Lonah Onyancha.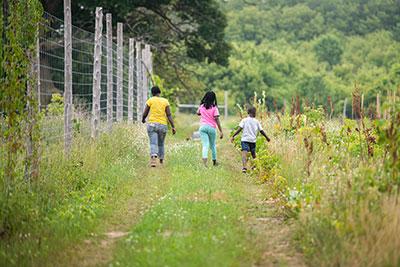 In addition to crops like tomatoes and kale, Moses and Lonah also grow white heirloom corn, spider wisp, nightshade and cowpea—foods they grew up eating in Kenya. The husband-and-wife duo manage 20 acres of organic farmland near Cambridge, renting some of the land to other immigrant farmers through their nonprofit farmer incubator, Kilimo.
For the last ten years, Moses and Lonah have sold their produce at Mill City, Kingfield and Fulton farmers markets in Minneapolis. They have slowly expanded, adding a few wholesale accounts and contracting with local restaurants. When the unrest following the murder of George Floyd shut down farmers markets and the numbers of shoppers visiting farmers markets saw a steep decline due to the pandemic, Moses wondered how they were going to find people to buy their produce.
"I mean, it was strange," Moses recalls. "You wake up one day and people have disappeared from the highways and there were no farmers markets."
Restaurant contracts also evaporated. That's where Second Harvest Heartland stepped up to partner with The Good Acre, to address both this immediate challenge and the more systemic barriers that farmers of color can disproportionately face. Moses and Lonah are now able to sell a portion of their produce at market rates. The produce is being distributed to food shelves across the state, providing fresh, organic vegetables to families experiencing hunger.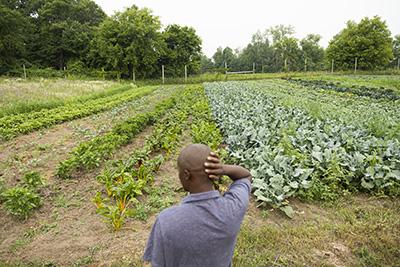 "They have tried to make this work as much as possible," Moses says of the partnership, "so that includes not making strict, contract-based deliveries. So, if we have more of something or less of something, they work around that."
The flexibility eliminates some stress in a profession known for uncertainties, and in which farmers of color face additional barriers around land and loan access. As a large produce customer, Second Harvest Heartland is working to build more relationships with BIPOC-owned farms to strengthen Minnesota's agricultural industry.
For Moses, a reliable market for his produce provides some peace. Knowing that his produce is going to families facing hunger is a bonus: "I feel honored."
Learn More About the Racial Hunger Divide
There's a role for each of us to play in confronting and addressing the racial hunger divide. And just recently we hosted a roundtable reckoning with the racial hunger divide. You can watch the conversation, learn more and join in our efforts.