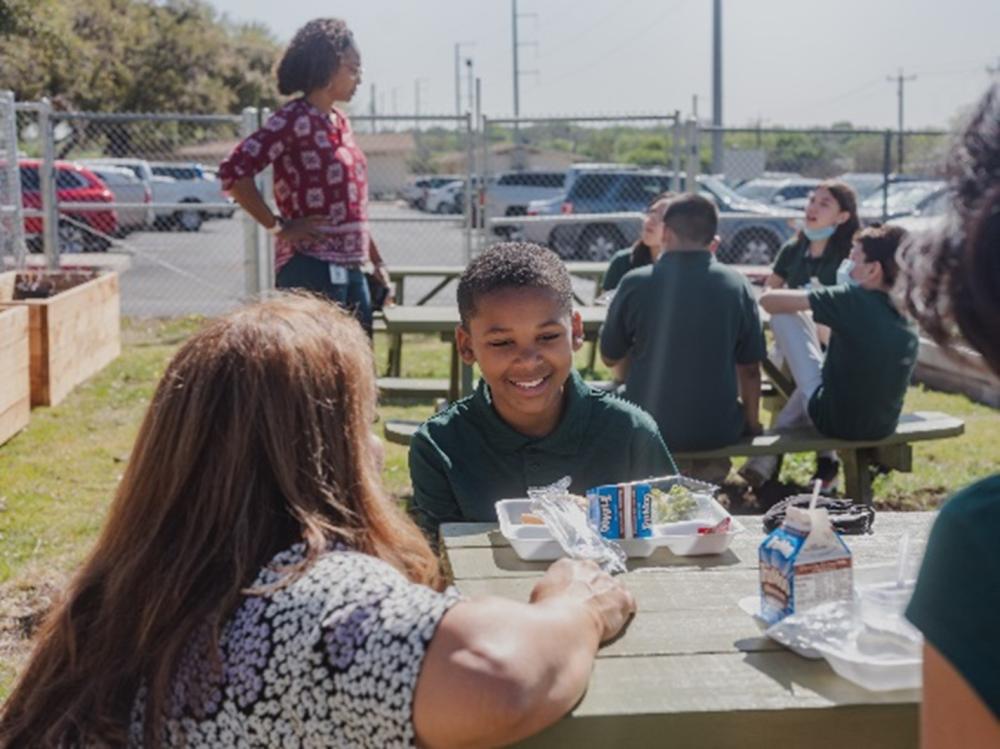 5 Hunger-Fighting Reasons to Give Monthly
As hundreds of thousands of Minnesotans face food insecurity and many food shelf partners are seeing up to 30% more visitors this summer, consistent support from monthly donations is more important than ever in the fight against hunger.
During the month of July, Cargill Foundation and Rogue Foundation are providing a 12-month match for new monthly donations, up to a total of $85,000. Become a Monthly Giver by July 31 to double your impact for the first 12 months and help provide twice as many meals for families facing hunger now and in the year ahead.
The Engine that Fuels the Hunger-Relief Network
Our food bank is here to ensure safe and reliable access to healthy food that Minnesotans need. Serving as the engine that fuels the hunger-relief network, Second Harvest Heartland safely distributed more than 120 million pounds of food last year to the more than 800,000 Minnesotans who visited their local food shelves.
We can't continue this work without ongoing community support. That's why monthly giving is vital in the fight against hunger. Dependable monthly gifts help sustain our hunger-fighting programs and food distributions—keeping our food bank engine running strong and efficiently to help ensure families facing hunger have the nourishment they need today and in the months ahead.
Here are 5 hunger-fighting reasons to become a Monthly Giver today:
Hunger is still here. Together, we've held off depression-era levels of hunger throughout the pandemic, but unfortunately 1 in 12 Minnesotans are still facing food insecurity today. With added pressure caused by inflation, federal pandemic support expiring and reduced access to free school meals now that school is out, more families are struggling to make ends meet—and many are relying on food assistance for the first time ever. Reliable monthly donations help ensure families have access to food, no matter the time of year, state of the economy or unexpected circumstances.
Monthly giving is the most efficient way to fight hunger. Ongoing support through monthly donations helps ensure neighbors experiencing hunger get the food they need, when they need it. Monthly giving allows our operations team and the partners we serve the ability to rely on certain levels of revenue, making it easier to plan ahead strategically. Sustaining monthly support also enables us to be nimbler, faster and more efficient in our response to community need.
Peace of mind for families in need. The scary truth is hunger can happen to just about anyone. A poll conducted by our food bank found that nearly half of Minnesotans have experienced food insecurity at some point. Monthly giving provides a reliable stream of financial support, helping provide much needed meals for neighbors facing hunger no matter the circumstances or time of year.
Convenience of automatic monthly donations. It's easy to become a Monthly Giver, and it only takes a few minutes to sign up online or by calling us at 651-209-7950. Your gift will be automatically charged each month, providing steady support for families in need year-round. You can change, cancel or upgrade your monthly giving membership at any time to the amount that is right for you.
New monthly gifts in July are matched for a year. When you sign up to be a Monthly Giver by July 31, your recurring gift can be matched for the first 12 months. This means your monthly gift can provide twice as many meals for families in need for a whole year. With the match, a gift of $30 per month can provide 2,160 meals per year for families in need. A $50 monthly gift can provide 3,600 meals per year!
There are so many reasons why monthly giving is vital to the fight against hunger. And it can make a profound difference for families who sometimes need a little extra help to put food on their tables. Families like Elijah's, whose grandpa is the sole caregiver for him and his four siblings. They visit a local meal distribution site in the summer to help make ends meet and stay healthy and active when school is out.
"When I'm hungry, I get tired or I'll get distracted," 11-year old Elijah said. "But when I'm not, I'm on-task and I can focus."
New Monthly Gifts by July 31 Matched for an Entire Year
Hunger is still here in the heartland, but we're committed to making sure local kids, families and seniors have access to the food they need. That's why sustaining Monthly Givers are such an integral part of our fight against hunger—providing vital support year-round that helps keep our hunger-relief operations strong and enables us to respond quickly and effectively to urgent community needs.
When you join during the month of July, your monthly support can have an even bigger impact. Sign up to become a Monthly Giver by July 31 and your recurring gift will be matched for the first 12 months—thanks to matching funds from Cargill Foundation and Rogue Foundation—up to a total of $85,000.