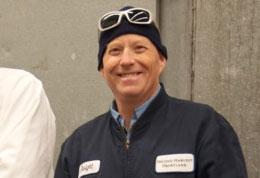 Delivering Food and Spreading Hope
Dwight Peach, a Second Harvest Heartland truck driver, starts his workdays around 4 a.m., picking up food rescue products from local retailers and delivering them directly to agency partners such as food shelves and senior housing centers. But the early hours bring a huge benefit – a chance to interact directly with the people who are on the front lines of hunger relief.
Dwight spent years working in other industries and 'jumped at the chance' to work for Second Harvest Heartland a few years ago. "I had always known about Second Harvest Heartland's work, but becoming an employee was a chance to do even more to help people."
Dwight's passion for helping people spills over into the rest of his life. He volunteers at a local church-based food distribution event where he's able to take one more step toward ending hunger. "I love to meet the people we're helping, especially seniors," he says.
"They feel so much better when they get protein, and dairy and fresh produce. Just a little bit of food goes a long way."
The secret to Dwight's enthusiasm and commitment to hunger? "I love what I do!"