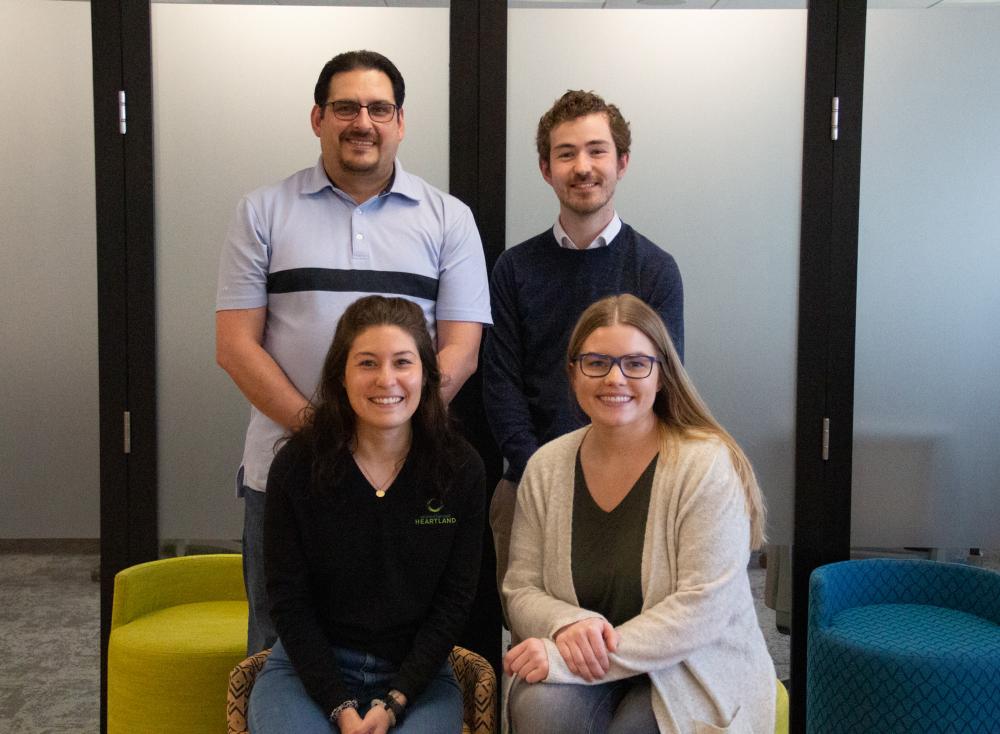 Meet the Team Helping to Keep Food Distributions Safe and Accessible!
At Second Harvest Heartland, we take our role seriously as a partner to food shelves and other hunger relief organizations. We know that together we are accountable to fill fridges and plates when times get tough. Our region's food shelves and pantries and the shoppers they serve are relying on us to deliver. That's why our Agency Relations team, who works directly with food shelf and community partners, has an in-house Compliance team, helping partners prioritize health and safety at every step of the hunger-relief journey.
Get to know our Agency Relations' Compliance team members:
Could you please introduce yourself and share what you enjoy most about your role in compliance?
Ian Voels (he/him): I have been at Second Harvest Heartland for 3.5 years and a compliance specialist since January 2021. I support our partners in southwest and central MN. My favorite part of this work is seeing how each community is unique, and every hunger fighter has a different background.
Annissa Zynda (she/her): I have been here since July 2019 and a compliance specialist since September 2020, working with our partners in Carver, Hennepin, and Wright counties. I enjoy visiting our partners and learning more about the work they are doing in their communities.
Roel Ramos (he/him): I have been at Second Harvest Heartland for 9.5 years and close to 3 of those in the compliance role. I cover the eastern part of our service area. One of the things that I enjoy most about my role is that I get a chance to change the perception of how our partners view compliance visits.
Leah Baack-Lohman (she/her): I have been with Second Harvest Heartland for about 8 years and have worked in multiple departments before joining the Agency Relations Team in June 2020 as the Agency Relations Manager. I love working with our incredible network of partners, continuing to improve our quality of service, and ensuring food is distributed effectively and safely.
What are the goals of the compliance team at Second Harvest Heartland?
Leah: We are primarily focused on upholding all county, state and federal guidelines, which ensure food is safely delivered by the hunger-relief community. By upholding these guidelines we aim to best serve people experiencing hunger by providing respectful and accessible services. We also aim to preserve the integrity of the emergency food system by reducing potential risk. We do this by providing partners with guidance and support to meet compliance expectations. We also provide suggestions about best practices for improving the quality of services and increasing access for everyone.
Who sets the regulations the compliance team upholds?
Leah: Guidelines are set at the federal, state and county levels. Additionally, we follow regulations set by Feeding America and the Minnesota Department of Human Services Office of Economic Opportunity. To ensure we are following these guidelines, Second Harvest Heartland is subject to auditing by the USDA, the State of Minnesota, Feeding America and the American Institute of Baking (AIB). We consistently receive top ratings for food safety and facility management. Our deep understanding of these rules allows us to support partners' adherence to them and safely and reliably meet the needs of their community.
What does a typical day look like for a compliance specialist?
Annissa: The joy of working in compliance is that there is not really a typical day. Some days I work remotely or from the Brooklyn Park office doing paperwork, follow up, data entry or meeting with internal peers and external stakeholders. Some days are spent entirely on the road visiting a variety of programs.
Do you have a story of a partner who particularly benefited from your compliance support?
Roel: Once during a site visit, I pointed out that the wording on the program's website sounded a bit intimidating. The staff was concerned to hear that this wording could deter clients. They updated the website right away and were grateful I brought it to their attention.
Ian: I once visited a food shelf that was onboarding a new director. The previous director had left abruptly without leaving guidance for the new leaders. I was able to answer their questions, teach them ways they can keep food safe, and point out some requirements they may not have known about. As a result, the new leadership had the knowledge and tools to ensure safe and reliable food access in their community.
What does it mean to do a site visit?
Ian: During a site visit we meet a partner at their food distribution site. I always start by asking how things are going to learn what trends are they seeing or what difficulties are they facing. I then talk through the requirements we must follow regarding civil rights, food safety and IRS regulations. We always tour the food shelf space and make sure all food is stored safely. After the visit, I follow up if I noticed any areas of concern and we move forward together to address them.
What do you want others to know about our compliance work at Second Harvest Heartland?
Annissa: A lot of language typically associated with compliance is intimidating but I would like to emphasize that a large part of our role is to provide support and education. We do not simply tell our partners what is wrong, we also help find solutions.
Ian: Everything we do is for our neighbors facing hunger. We want to make sure everyone seeking food support receives good, safe food and is treated with dignity and respect.