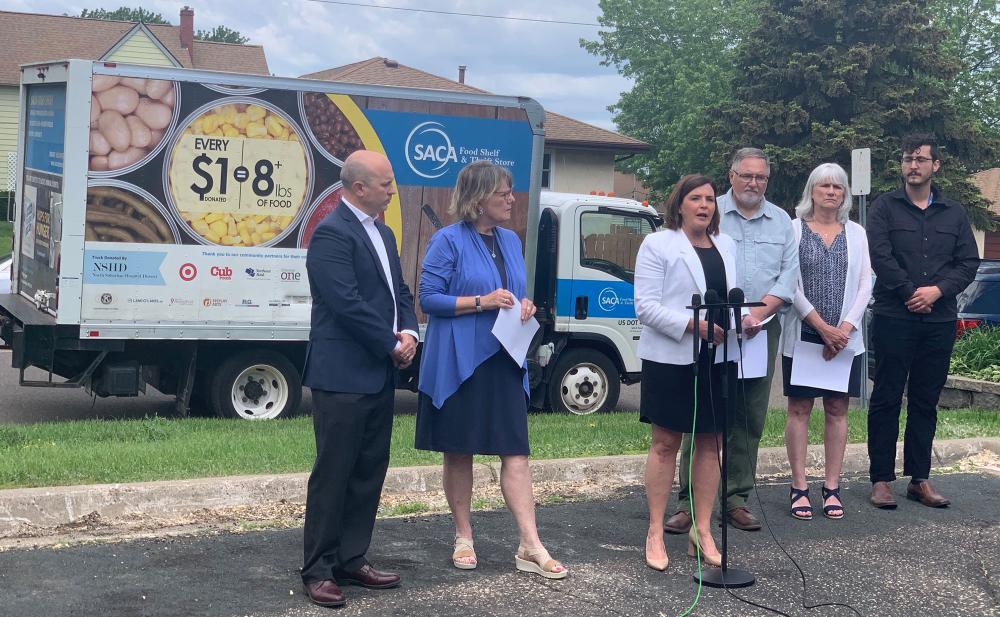 End of Legislative Session Brings Missed Opportunities for Lawmakers to Address Food Insecurity
Back in January, when the 2022 Minnesota legislative session began, hopes were high among members of the hunger-relief network and the people we serve. Minnesota was reporting a historically high budget surplus (that's only gotten bigger) and the Governor had recently released a list of proposals for a supplemental budget (new investments that would be funded on top of the budget passed during the 2021 session) that would aid our shared mission to end hunger together.
His budget proposal included over $30 million in funding to support food banks, food shelves and tribal communities' efforts to address food insecurity in Minnesota. The Walz administration also proposed another $180 million to fund free school meals for all students, which would maintain gains in the fight against hunger afforded by Covid-era child nutrition waivers.
Second Harvest Heartland works with dozens of other organizations across the state who participate in coalitions like Partners to End Hunger and the Hunger-Free Schools Campaign to advocate for policies like these that will support food banks and food shelves and directly benefit the people we serve. We also took action to provide our supporters with opportunities to make their voice heard in support of free meals for all, our best bet in ensuring no Minnesota kids go hungry at school.
Thanks to the efforts of these groups, many of these proposals received hearings at the legislature, and we saw bipartisan support among legislators and the general public. In addition, we were excited to hear robust discussion throughout session around other policy areas that would provide a boost to Minnesotans experiencing challenges often associated with food insecurity, such as housing affordability, lack of health care access, and economic insecurity.
Unfortunately, as of May 23, 2022, the legislative session has ended with little action taken on any of the hunger-relief community's legislative priorities to help us support Minnesota families in need. Legislators were unable to come to an agreement on most budget bills, passing only a small number of investments in mental health, agriculture and broadband. The one bright spot is the passage of some policy changes like increasing access to the Supplemental Nutrition Assistance Program (SNAP) for Minnesotans making up to 200% of the Federal Poverty Level. This will open up access to SNAP to more of the 41% of Minnesotans experiencing food insecurity who aren't currently eligible to participate in the program.
Due to this lackluster ending, Governor Walz has raised the potential for a special session which would bring legislators back to the capitol to finish negotiations and pass additional legislation. Given the increasing demand for food assistance as Covid-era assistance programs end, plus supply chain challenges making it harder than ever to source food, Second Harvest Heartland and our many partners in the emergency food system are joining the call for a special session to ensure some of Minnesota's historic surplus is used to support our neighbors facing food insecurity. To that end, Second Harvest Heartland CEO Allison O'Toole joined several hunger-relief partners at a press conference on Wednesday, June 8 to share our perspective and ask Minnesota's legislators to come back to the table.
We're still waiting to see if a special session will come to be, but no matter what happens, we will continue to raise awareness for the programs and policies (like free school meals for all) that support Minnesota's hunger-relief network and the people we serve.
What you can do to support those facing hunger: