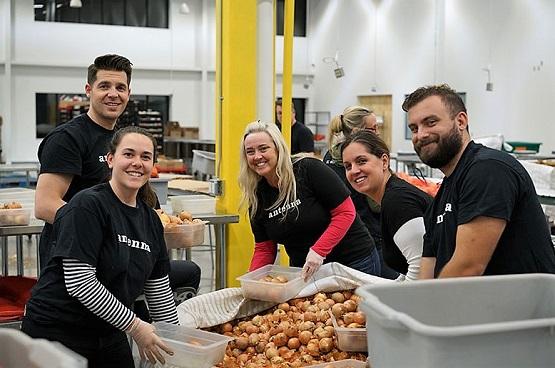 Social Media Community Guidelines
Second Harvest Heartland encourages community engagement in our mission of ending hunger together and values connecting with our audiences online. Share, discuss, and discover information and ideas through our social networks and connect with other individuals working to end hunger. We ask that users always treat each other with courtesy and respect.
In order to keep our communities and conversations focused, we've established the following guidelines:
Social networks are public
Second Harvest Heartland online communities are open to the public. Anything posted to our social networks may be seen and read by everyone.
Stay on topic
Your comments should be related to the topics posted on our social networks. We reserve the right to delete off-topic comments, and, for instance, will remove any marketing materials, commercial content, and other types of "spam" (such as comments that are posted repeatedly), and will ban users as appropriate.
Make sure it's yours
Only post content if you have the proper permission from its rightful owners. If it belongs to someone else, please don't post it. Copyrighted and trademarked material and other intellectual property will be flagged for removal.
Be kind and courteous
We're all in this together to create a welcoming environment. Let's treat everyone with respect. Healthy debates are natural but, be kind: do not personally attack your fellow commenter during a disagreement. Let us be clear that we do not allow anyone to speak disparagingly of anyone seeking resources for food insecurity.
We welcome questions and commentary, including constructive feedback and differing opinions, but please remember to be both relevant and respectful with what you post. We do not tolerate harassment, abuse, or threats to others. We reserve the right to remove any posts that don't adhere to our guidelines and to block anyone who violates them. Specifically, we do not tolerate posts that are:
Bullying, cursing and harassment of any kind
Abusive, stalking, threatening or attacking others
Defamatory, offensive, obscene, vulgar or depicting violence
References to upsetting or distressing subjects
Hateful in language targeting race/ethnicity, age, color, creed, religion, gender, sexual preference or orientation, nationality or political beliefs
Sexually explicit or pornographic
Fraudulent, deceptive, libelous, misleading or unlawful
References to criminal or illegal activity
Violations of any intellectual property rights
Spamming in nature
Viruses or programs that could damage the operation of other people's computers
Personal solicitation of donations
Disclosing personally identifiable information of others, unless those individuals have expressly consented in writing to sharing their information
Removal of posts and user bans
We reserve the right to remove any comments or content that doesn't adhere to these guidelines. We may also block users without prior notice who violate the rules or otherwise abuse our online communities.
Third-party websites
Second Harvest Heartland is not responsible for and does not endorse third-party websites or content that may be linked to from our social networking websites. Review the privacy and security practices, and policies of all third-party websites that you visit.