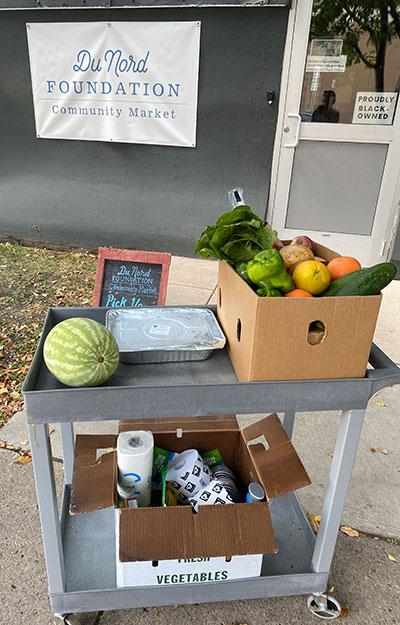 The Du Nord Foundation Community Market and Eat for Equity Team Up to Nourish South Minneapolis Neighbors
In our efforts to confront and address the racial hunger divide, Second Harvest Heartland is expanding and deepening our partnerships with organizations like the Du Nord Foundation Community Market and Eat for Equity to reach communities of color and get food where it's needed most.
Following the civil unrest set in motion by George Floyd's murder last summer, Chris & Shanelle Montana started the Du Nord Foundation to address racial inequities in the Twin Cities.
The owners of Du Nord Social Spirits, a Black-owned distillery located in the Longfellow neighborhood of South Minneapolis, saw that with local grocery stores shuttered and transportation less accessible, affordable food was urgently needed in their neighborhood. They quickly converted their warehouse space to address this food insecurity crisis and the Du Nord Foundation Community Market opened its doors.
The market was originally meant to serve as a pop-up location for neighbors to pick up food for a few weeks, but when those organizing the pop-up saw 500 to 800 visitors a day, they knew it needed to be a staple in the community.
The community market, which sees itself as a food shelf with the heart of a mutual aid organization, serves anyone who stops by or places an order online, with the majority of their visitors being their Latinx neighbors. Community Market Director Trica Trowbridge has been intentional about creating a bilingual online ordering platform and having staff and volunteers with Spanish language skills to serve their neighbors. The market also offers culturally reflective foods so that Latinx neighbors can order what they need for their households.
"Everything we do is about community," explained Trica. "We try to have as few barriers as possible." In addition to language accessibility and online ordering, the market is open evenings to accommodate their neighbors' schedules. Second Harvest Heartland helps by improving their sourcing of culturally connected ingredients and making those available to partners like the market. This includes jalapenos, jicama, mangoes and cilantro—ingredients not often available at food shelves and pantries.
But fresh foods, pantry items and household necessities aren't the only items available at the Du Nord Foundation Community Market. Right down the hall is Eat for Equity, a mission-driven catering company that supports nonprofit organizations throughout the Twin Cities.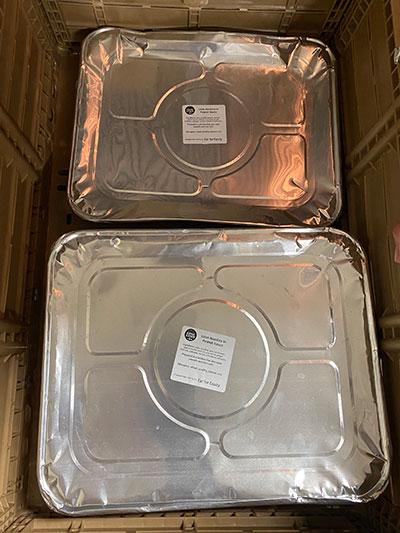 Established in 2006, Eat for Equity became a Minneapolis Central Kitchen partner in June 2020, receiving ingredients from Second Harvest Heartland and transforming them into individual and family-style prepared meals. As a part of the Minnesota Central Kitchen collaborative, the 1,200 meals created by the Eat for Equity team each week are distributed to neighbors across the Twin Cities metro through partnerships with The Sanneh Foundation, Hopkins School District, and, right down the hall, the Du Nord Foundation Community Market. This work represents around 60 percent of the kitchen's output each week.
"It's meaningful to be able to provide meals for our neighbors," said Eat for Equity Executive Director and co-founder Emily Torgrimson. "This program recognizes that hunger isn't just access to food. It's the time, money, energy, skill."
How You Can Support Du Nord Foundation Community Market
DONATE: Your tax-deductible donations to the Du Nord Foundation Community Market can go towards the purchase of a variety of local, organic food and supplies. Donate here.
VOLUNTEER: The Du Nord Foundation Community Market welcomes any like-minded, energized, and compassionate individuals to help us in their efforts as greeters, organizers, interpreters or more. Sign up here.